Certified International Commercial Contracts Management and Contracts Administration Training Course in Dubai, Abu Dhabi, Qatar
From the International Purchasing and Supply Chain Management Institute, USA
The Certified International Commercial Contracts Manager (CICCM) is designed for US and international business practitioners by The International Purchasing and Supply Chain Management Institute (IPSCMI). It is particularly appropriate for those individuals who wish to increase their commercial contracts management skills.
A Certified International Commercial Contracts Manager (CICCM) certification demonstrates that you are knowledgeable about the practice of contracts management in the international commercial environment.
Successful candidates are granted the designation of CICCM. This certification may be used just as similar recognition which are employed in accounting, insurance, medicine, law, and other professions. Either the full expression or the initials may be used after the individual's name on business cards, stationery, etc.
Download the brochure to find out more details about the program
Program Director: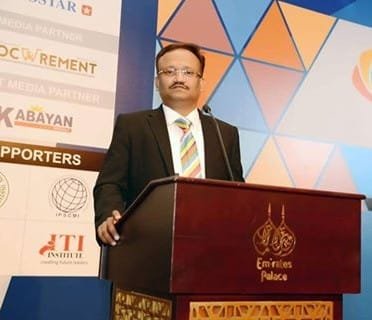 Dr. Sathya Menon is a trailblazer in procurement, logistics and supply chain education in the Middle East. He has 25+ years of experience (including consulting and training) in the field of Logistics, Supply Chain Management and Purchasing. He has worked with various MNCs like Ericsson, Compaq and large conglomerates like Samtel, Al Futtaim helping them to expand their Supply Chain operations. He have trained more than 25,000 professionals in the field of Logistics, Procurement and Supply Chain.
Qualifications  
PhD in Logistics and Supply Chain Management
MBA in Supply Chain Management
MBA in Materials Management
MCIPS from Chartered Institute of Purchasing and Supply (CIPS), UK
Certified SAP Consultant for Supply Chain Management from SAP, Germany
FCMI from Chartered Management Institute (CMI), UK
Certified Purchase Manager (CPM) from Institute of Supply Chain Management (ISM) , USA
Certified International Supply Chain Manager (CISCM) from International Purchasing and Supply Chain Management Institute (IPSCMI), USA
Certified International Commercial Contracts Manager (CICCM) from from International Purchasing and Supply Chain Management Institute (IPSCMI), USA
Certified International Professional Training Consultant (CIPTC) from American Certification Institute (ACI), USA
Certified Professional Purchasing Manager (CPPM) from American Purchasing Society (APS), USA
Certified Purchasing Professional (CPP) from American Purchasing Society