Blue Ocean Academy specializes in corporate training in Dubai, Abu Dhabi, Sharjah, UAE, Saudi Arabia, Oman Qatar, Kuwait and Bahrain and consulting assignments that are industry-specific and tailored to the requirements of the client.
Starting from business process re-engineering to logistics and supply chain, Blue Ocean's
consulting solutions are much sought-after by companies looking for a quick makeover or a permanent solution to a recurrent problem. An impressive range of training, consulting and research services are on offer. Blue Ocean training consultants are renowned names who can offer their expertise to help companies reinvent and achieve sustainable business goals.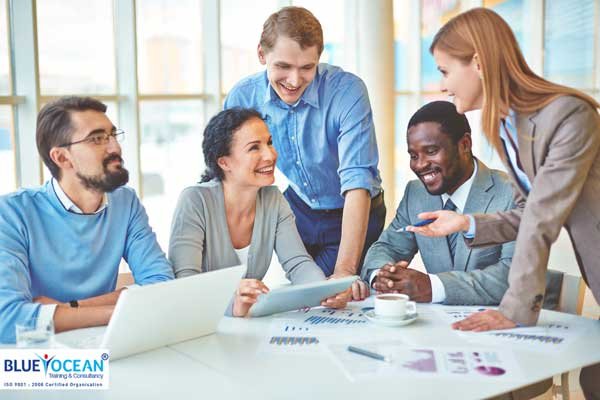 Invest in your Employees…It Pays
An international certification serves as a benchmark of competence and a leading credential for professionals in competitive workplaces worldwide. Recently there is a growing body of evidence to support the value of an international certification in the workplace. Statistics from global companies have revealed that for each new
team member certified, team performance has increased every time. The level of skill that a team has is directly responsible for how an organization performs in several key functional areas.
Investing in employees through learning programmes showcases a company's commitment in creating a sustainable business culture.
This, in turn, increases profitability, builds loyalty and employees are committed to the success of the organization as a whole.
Organizations with a futuristic vision are committed to make training a part of the organizational culture.
Continuous training translates into:
Highly engaged employees
Employees going that extra mile to meet organizational goals
Improved teamwork
Increased ability to be competitive
Loyal employees
Course Categories
Logistics and Supply Chain Management Professional Certification Programs
Procurement and Purchasing Professional Certification Programs
Human Resource Management Professional Certification Programs
Six Sigma
PMP Exam Preparation
CIPS Exam Preparatiom
Contracts Management Courses
Soft Skills Training Programs
 Administration and Management Courses
Leadership Training Courses
Supervisory Skills Training
MS Office Training
Contact us today for a customized course as per your requirement
Corporate Course List