From the International Purchasing and Supply Chain Management Institute, USA
Certified International Supply Chain Manager Course is an advanced level training and certification program in Logistics and Supply Chain Management. The CISCM course is designed for logistics professionals who want to grow into a senior management level. The course will mostly focus on the strategic aspects of Logistics and Supply Chain Management.
By enrolling into the CISCM program, you demonstrate a commitment to improve yourself and contribute successfully to the organization you are working in. Having the IPSCMI CISCM tag will help you showcase the training, skills and qualification you acquired to your present and future employers.
This advance level certification program will help for an easy transition from supply chain professionals to Managers, General Managers an even heads of enterprises. All the modules taught in CISCM are of strategic nature. These modules will teach you to conceptualize the strategy and help planning.
Download the brochure to find out more details about the program
Program Director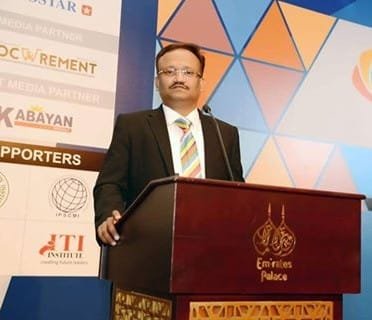 Dr. Sathya Menon is a trailblazer in logistics and supply chain education in the Middle East. He has 25 years of experience (including consulting and training) in the field of Logistics, Supply Chain Management and Purchasing. He has worked with various MNCs like Ericsson, Compaq and large conglomerates like Samtel, Al Futtaim helping them to expand their Supply Chain operations. He have trained more than 25,000 professionals in the field of Logistics, Procurement and Supply Chain.
Qualifications  
PhD in Logistics and Supply Chain Management
MBA in Supply Chain Management
MBA in Materials Management
MCIPS from Chartered Institute of Purchasing and Supply (CIPS), UK
CMILT – Chartered Member of the Institute of Logistics and Transportation (UK)
Certified SAP Consultant for Supply Chain Management from SAP, Germany
FCMI from Chartered Management Institute (CMI), UK
Certified Purchase Manager (CPM) from Institute of Supply Chain Management (ISM) , USA
Certified International Supply Chain Manager (CISCM) from International Purchasing and Supply Chain Management Institute (IPSCMI), USA
Certified International Commercial Contracts Manager (CICCM) from from International Purchasing and Supply Chain Management Institute (IPSCMI), USA
Certified International Professional Training Consultant (CIPTC) from American Certification Institute (ACI), USA
Certified Professional Purchasing Manager (CPPM) from American Purchasing Society (APS), USA
Certified Purchasing Professional (CPP) from American Purchasing Society
Logistics & Supply Chain Courses
Procurement and Purchasing Courses 
Shipping and Fright Forwarding Courses