His Excellency Sheikh Nahyan bin Mubarak Al Nahyan: The Human Being in the UAE is the Centerpiece of the Sustainable Development Process
A digitally augmented workplace accelerates productivity and improves Human Resource Management.
His Excellency Sheikh Nahyan bin Mubarak Al Nahyan, UAE Cabinet Member and Minister of Tolerance and Coexistence, asserted that the development of the human capital in the UAE comes at the top of the interests of the rational leadership, stressing that the human being in the country is the most precious wealth and has always remained a focus of the sustainable development process that the country is witnessing in various fields.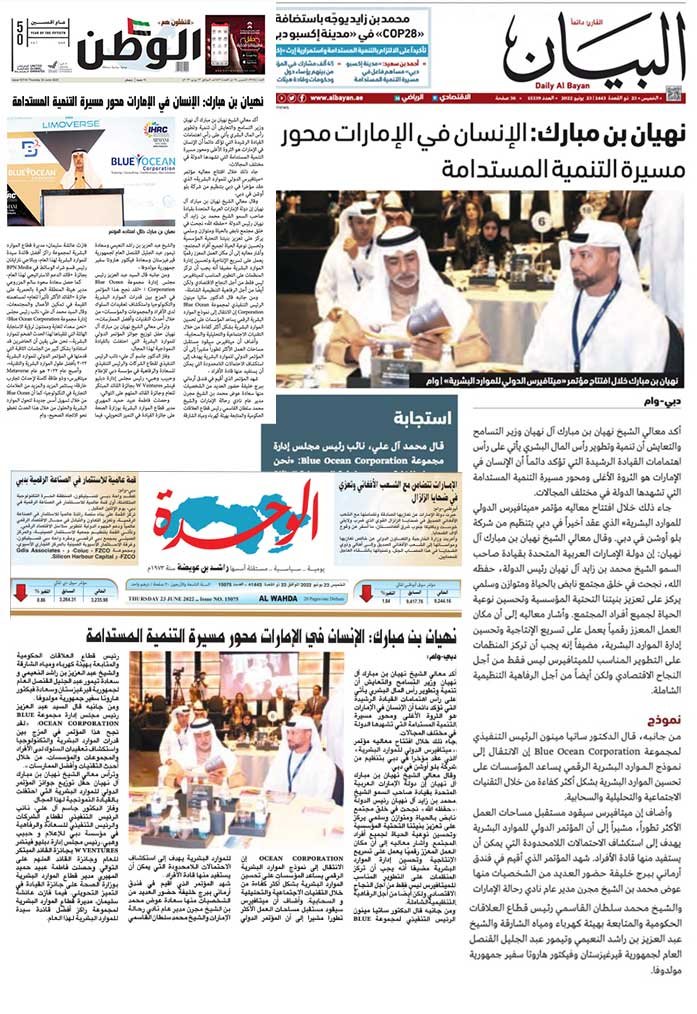 His Excellency Sheikh Nahayan bin Mabarak Al Nahayan Stresses Need for "One World, One Supply Chain"
His Excellency Sheikh Nahayan bin Mabarak Al Nahayan, UAE Cabinet Member and Minister of Tolerance and Coexistence, recently inaugurated the 6th International Procurement and Supply Chain Conference 2021, in Dubai, which is the biggest of its kind in the Middle East.
Emphasizing that the need for a closely connected global supply chain network now is even greater, His Excellency praised Blue Ocean Conferences, for organizing this mega union of business leaders successfully.
Applauding this bold initiative of Blue Ocean, His Excellency remarked "I congratulate you on the selection of the theme of this conference – One World, One Supply Chain – Evolution of a Connected Global Supply Chain Community is both important and timely."
Addressing a global audience, His Excellency stated how UAE has historically played a leading role in being a facilitator and mediator to a great many international events and created an environment enriched with stability and financial integrity. He also encouraged everyone to visit the ongoing Expo 2020 Dubai, a magnificent event hosted by UAE.
Blue Ocean Corporation Awarded 'Best Workplaces in the UAE 2022'
Blue Ocean Corporation, a Super Brand organization having interests in professional training, events, consulting, and recruitment across the Middle East, was recently honored with the 'Best Workplaces in the UAE 2022' title at a grand awards ceremony in Dubai's FIVE Palm Jumeirah Hotel.
The recognition was awarded to Blue Ocean by Great Place to Work, the global authority recognizing high-value and best workplaces from all over the world. Blue Ocean ranked amongst the top fifteen companies in the UAE who were presented with this much-coveted title. Last year, Blue Ocean was awarded the 'Great Place to Work' title.
Blue Ocean Corporation, which is one of the Middle East's leading partners for professional training and knowledge development, consulting, conferences and recruitment services bagged the Best Work Place rank along with other top-notch companies like DP World, Coca Cola, Maersk UAE, Hilti, THE One, Transworld Group, and Dubai Police to name a few.
Two days of Paid Leave for Expo 2020 Dubai visit with company-sponsored tickets announced for Blue Ocean employees.
The doors to the world's biggest show are now open to the public and one cannot wait to experience the magical aura of the magnificent man-made wonders displayed in it. Yes, we are talking about Expo 2020 Dubai.
Bedazzling the global audience with its spectacular opening ceremony, Expo 2020 kicked off on 30th September, 2021.
Witnessing a starry evening, the Expo 2020 stage lit up with grand performances by world renowned artists paired with the subtle dramatic enactment of the UAE's rich legacy that showed transformation from its humble roots to becoming one of the world powers.
What began on an awe-inspiring note is now a precious gem for all to explore.
With an ever-increasing demand for tickets and news of prominent government leaders, international celebs and other VVIPs doing the rounds, it is evident that Expo 2020 is that one event in everyone's calendar for the next six months that needs a couple of visits.
At Blue Ocean, our week has started with some added punch – an exciting Expo 2020 revelation that unfolded smiling faces and double the energy in the workspace!
Two days of Paid Leave for Expo 2020 Dubai visit with company-sponsored team tickets announced…Music to the ears of every Blue Ocean employee.
The management has confirmed that on the first day, the entire team of Blue Ocean will be visiting the world's biggest exhibition together as a team, whereas the second paid leave shall allow employees to visit the Expo 2020 site with their families.
Blue Ocean CEO Dr. Sathya Menon said, "This is a small endeavour by Blue Ocean, through which we seek to support the Dubai Government's efforts to sustain the economy of Dubai and the UAE and safeguard the wellbeing of our employees. Just like the theme of Expo 2020 states 'Connecting Minds, Creating the Future', meaning to cooperate and collaborate and stimulate ideas that will establish what Dubai's future looks like, we as a Team are also closely connected and work unitedly to nurture growth for a better tomorrow for our organization and the nation."
Blue Ocean's principles and opportunities are also in tune with the Expo 2020's sub themes of opportunity, mobility, and sustainability. The management always looks up for ways to boost up the energy and motivation at work, and at the same time ensures that employees can retain a good deal of the drive in their personal spaces.
A big THANK YOU to the management.
We are touched beyond words.

Blue Ocean Academy CEO gets Golden Visa
Life is challenging yet so beautiful. As I say this, I recollect the myriad of shades my life has shown me. I believe there is more to come.
Recently I got the 10-year UAE Golden Visa, an honour for which I am truly indebted to the UAE Government. My respect and admiration for the great rulers of this powerful nation only keep on increasing with every passing day. I am thankful to the rulers of this great nation for bestowing such a great recognition upon me.
Golden Visa is of all great importance to the expat community. It was implemented by the UAE government in 2019 and allows foreigners to live, work and study in the country for a long period without the need of a national sponsor. Golden Visa holders also have 100 percent ownership of their businesses in the UAE.
The Golden Visa shines bright and its brightness emits independence and power. But we must always remember how great power brings greater responsibilities along with it. I am glad that my years of service in UAE as a responsible expat got recognized and earned me a prestigious honour that is so rare and beautiful.
My journey in the United Arab Emirates began twenty-four years ago and I feel blessed that I could well utilize my knowledge and acumen to produce a deep and positive impact on the professional training and development industry not only in the UAE, but the entire Middle East through Blue Ocean. But that's not to say that Blue Ocean is happy to be resting on its laurels; in fact, we will be treading ahead faster with wider expansion strategies in the future.
Our recruitment division which was introduced a couple of years back has already carved its own space in the industry and is aggressively focussed on capturing new territories.
Operating through a strong network of training facilities, consulting services, conferences, seminars, workshops, webinars and other events, Blue Ocean constantly seeks to innovate and introduce best practices, which will render a better and stronger society.
I have always believed that if you work with sincerity and the right intention, your purpose will not go unnoticed. And I have experienced the same at various stages of my journey here in the UAE.
My journey so far has been challenging as well as rewarding. From a Procurement and SCM professional back in New Delhi to heading a business unit in the largest conglomerate in UAE – Al Futtaim Group, to be the faculty and CEO of Blue Ocean, I have seen many business cycles. Challenges come to businesses, but we must be always prepared and work well to stay one-step ahead of the market and for that , there is no better place than Dubai.
And my belief is now my faith. Thanks to Dubai, a city that never gave me any chance for self-doubt or regret. Instead, positivity showered in from everywhere.
Dubai embraces you warmly and has plenty to offer. The UAE has emerged as one of the key global business and investment hubs in the world economy and as a well-wisher of this beautiful nation, I only wish for it to grow stronger in the future. In Dubai, all dreams can become reality if you have an action plan towards achieving it.
There has been an endless number of congratulatory messages coming in post this big honour, and I am genuinely overwhelmed. Thank you everyone.
Blue Ocean Academy wins Superbrands 2021 Status
Honoured and excited to share another chapter of our ever-growing success story. Blue Ocean Academy makes a phenomenal move by becoming the UAE's first corporate training enterprise to win the prestigious Superbrands 2021 status. A massive moment of pride for everyone at Blue Ocean. Superbrands, the global independent authority and arbiter of branding bestowed this honour upon Blue Ocean in recognition of its exceptional contribution and reliability to deliver consistently in the field of professional learning and development.
Dr. Sathya Menon, CEO of Blue Ocean Academy remarked, "The last couple of months have been wonderful. Recently we won 'Great Place to Work' and now got recognized with the illustrious Superbrands status. We are in the right direction indeed."
Our journey is long, and this is only the beginning. We shall continue to excel in what we do the best – empowering minds and widening horizons, by creating world-class learning systems and shaping top-level skilled workforce. Thank you everyone for putting your faith in brand Blue Ocean. Sharing the highlights from Khaleej Times & Gulf News' exclusive coverage on Blue Ocean's latest achievement with CEO Dr. Sathya Menon, Chairman Mr. Abdul Aziz and Vice Chairman Mr. Mohamed Al Ali in the frame.
Blue Ocean Academy Receives Top Recognition " Great Place To Work"
Blue Ocean Academy's CEO Dr. Sathya Menon and Vice Chairman Mohamed Al Ali once again get featured on the pages of the illustrious Khaleej Times, Gulf News & Dar Al Khaleej for the academy's exceptional achievement as a 'Great Place to Work' organization in 2021.
What a thrilling journey it has been!
Like the rest, Blue Ocean Academy also felt the pressures of changing times. Faced with challenges amidst uncertainties, we chose not to look back; instead moved ahead with 'all of us' in this journey and now here we are – standing tall. All of us!
Dr. Sathya Menon, CEO of Blue Ocean Academy was quoted saying "Such an honor to be featured in two of the UAE's leading English dailies, alongside Mohamed Al Ali, Vice Chairman of Blue Ocean Academy, for our organization's phenomenal achievement as a Great Place to Work. Empathy and Compassion are two important virtues of Leadership when chips are down.
We have stood by our people during these tough times and they put their trust in us. As a leader, you cannot have a better team to work with. Keep your people Happy, they will keep your customers Happy."
Dr. Menon was also heard quoting Sir Richard Branson's famous lines "Happiness is the secret ingredient for successful businesses. If you have a happy company, it will be invincible." – every word of which reiterates with what Blue Ocean as an organization believes and practiced to gain this prized possession.
Blue Ocean Academy isn't just a good company to work with. It is a great company to work with!
FREE TRAINING FOR HEALTHCARE PROFESSIONALS
When we were asked to stay at home, some people continued working to ensure that we are safe. They stayed away from their family, quarantined themselves after duty and worked day and night for our wellbeing. No words can express the gratitude towards these people who were at the forefront of the battle against COVID-19. Blue Ocean Academy salutes these heroes and provides an opportunity for them to undergo free training in our courses. Thank you Khaleej Times and Gulf Today for your support.
Blue Ocean Academy has received overwhelming support from the prominent media in the UAE for providing free training to the UAE nationals.
Blue Ocean Academy has received overwhelming support from the prominent media in the UAE for providing free training to the UAE nationals. UAE and its people have been supporting us throughout our long journey and this is the time when we should contribute back to society. All UAE nationals can avail free online training in our courses till May 30. We hope it will help people come out of this crisis with an additional qualification to boost their careers. We are grateful to the media for providing great coverage for our initiative which has certainly increased its reach to the public.
Blue Ocean Academy to conduct free training for Omanis
Muscat: Blue Ocean Academy, the leading knowledge empowerment enterprise in the Middle East, will conduct free online training for Omani nationals.
The academy has come up with several initiatives to support individuals to continue education in these tough times. Free training sessions are also conducted for the UAE nationals and Blue Ocean's students to promote the remote learning programmes in the Middle East. Thousands of professionals have benefitted from its free training initiatives and the new initiative for Omani nationals is introduced to express its gratitude to a nation that has contributed greatly towards the firm's growth and expansion.
Blue Ocean Women Leadership Development (BOWLD) EmpowHer Conference
Blue Ocean Women Leadership Development (BOWLD) EmpowHer Conference created an exceptional platform for women to unite, rejoice and motivate each other on International Women's Day. Hundreds of top women professionals attended the conference held at Hotel Crowne Plaza on March 8, 2020. The inspiring speeches and insightful panel discussions took the event to the next level.
Dr. Zulekha Daud was honoured on the day with the Lifetime Achievement Award in Healthcare. Several other women also won awards for their exemplary efforts in their respective fields. We are overwhelmed with your great feedback and thank you for joining us on BOWLD Conference.
Realising dreams through competence - Blue Ocean Academy trains minds and carves out a path of innovation for businesses
Innovative thinking and a distinct approach always make headlines. Appearing in the media has never been new to Blue Ocean. However, we are extremely happy to see the article in Khaleej Times in which Dr. Sathya Menon talks about Blue Ocean's strategy and plans for 2020.
Blue Ocean features in 'The Knowledge Review' -
UAE's 10 Most Promising Educational Consultants in 2019.
The esteemed Six Sigma certification at Blue Ocean Academy
Blue Ocean Academy was featured in the 'Higher Education Review' for its prestigious Six Sigma certification that ensures quality improvement in organizations. As one of the pioneers of Six Sigma training in the Middle East, Blue Ocean offers Green and Black Belt certification from the US-based International Quality Federation (IQF) for aspiring professionals.
Blue Ocean Academy provides coaching for medical, engineering students
Blue Ocean Academy was featured in 'The Gulf Today' for providing coaching for medical and engineering students in Dubai. Professional coaching was provided for India's top rated engineering and medical college entrance examinations through the academy's subsidiary Career Institute. Career Institute and Resonance Eduventures Kota, Rajasthan had entered into an agreement to start the first Resonance Career Institute study centre near Burjuman in Dubai.
Blue Ocean Academy hosts former Indian Captain Mohammed Azharuddin in Dubai
Blue Ocean Academy hosted former Indian Captain Mohammed Azharuddin in Dubai as part of the first anniversary celebrations of leading cricket coaching academy, Kricket Spero. The students at the Kricket Spero academy gave a rousing welcome to Azharuddin. The article was published in the 'Khaleej Times'.
Blue Ocean Academy's first international conference on procurement
'The Gulf Today' published an article about Blue Ocean Academy's first international conference on procurement. 'The Purchasing and International Procurement 2014' focussed on the theme 'Evolution in Procurement: Challenges Ahead'. Eminent professionals from the world of purchase, international procurement and supply chain in the Middle East attended the conference.
Workplace Freedom Delivers Better Results
Workplaces worldwide are in a state of flux. Employees are clamouring for empowerment and freedom while managements are struggling to keep a balance between discipline and workplace rights. All the time, management control is imperative for productivity and profitability. Blue Ocean Academy, Expert Advice, Gulf News,
Power of positives in a world of negatives
Power of Positive : A happy workplace may not be Utopia. Professional relationships are fragile but worth working for keeping in mind sustainable business and individual career goals,
Embracing conflicts in the workplace
Being nice or accommodating is no longer in vogue particularly at the workplace. Seriously, if you have burnt your fingers in a conflict, and held out an olive branch afterwards for the sheer fear of being branded 'controversial', the time has come to face the truth. By avoiding conflict, you are giving out a clear signal that you are a victim. Gulf News, Expert Advice Column,
A smart storyteller's role in this digital age
If you are a good story-teller, you are in demand. Story telling has always been important and formed the essence of all successful communicators from Socrates to Dale Carnegie.
In today's digital age, as story-telling becomes an integral part of building a strong brand and culture, story-tellers are being specially head-hunted to build a "credible culture" and a "corporate conscience."