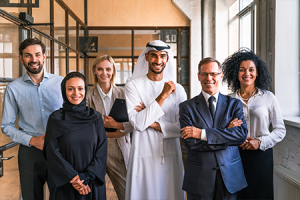 Logistics & Supply Chain Management
We have produced the largest chain of Supply Chain professionals in the Middle East region. We offer extensive range of supply chain management certifications – CISCP, CISCM, CIWIM, CSCP, CILT, CIVM and more, targeted to upgrade a wide range of skillsets for multiple functionalities in the logistics and supply chain industry.
CPIM 8.0- Certified in Planning & Inventory Management 8.0
Course Methodology
The Certified in Planning & Inventory Management (CPIM 8.0) course utilizes a variety of individual and team exercises, case studies, assessments, videos and group discussions.
Course Objectives
Upon completing CPIM 8.0, participants will be able to:
Increase inventory accuracy and reduce inventory
Improve planning and forecasting
Manage and apply capacity resource planning
Improve the S&OP process
Utilize the company's ERP system more productively
Target Audience
The APICS CPIM 8.0 is designed for professionals across the supply chain, like Buyers/Planners, Product Planners, Material Managers, Supply Planners, Managers, Consultants, Supply Chain Analysts, Inventory Analysts, Demand Analysts or Supply Chain Managers.
Target Competencies
Procurement Planning Strategies
Demand Management
Inventory Management
Schedule Planning
Order Management
Introduction
APICS CPIM 8.0 is a comprehensive program that incorporates the industry's best practices and strategies to equip supply chain professionals to drive efficient planning and operations in procurement. It combines the crux of CPIM Parts 1 & 2.
CPIM 8.0 is divided into 8 modules:
Module 1: Supply Chains and Strategy
Supply Chains, the Environment, and Strategy
Strategic Scope and Objectives
Developing and Managing Organizational Strategy
Functional and Operational Strategies Section E: Environments, Types, and Layouts Performance Monitoring and KPIs
Risk Management
Capital Equipment and Facilities
Sustainability Strategies
 Module 2: Sales and Operations Planning
S&OP Purpose and Process
Aggregate Demand and Supply Plans
Reconciling S&OP Plans
Module 3: Demand
Demand Management
Sources of Demand/Forecasting
Forecast Performance
Module 4: Supply
Creating and Validating the Master Schedule
Using and Maintaining the Master Schedule
Material Requirements Planning
CRP and Scheduling
Suppliers and Purchasing
Changes and Product Life Cycle Management
Module 5: Detailed Schedules
Planning Detailed Schedules
Scheduling and PAC Methods
Creating Production and Service Schedules
Managing Detailed Schedules and Scheduling Materials
Module 6: Inventory
Inventory Planning
Inventory and Product Costs, Value, and Metrics
Itemized Inventory Management
Inventory Control
Module 7: Distribution
Planning Distribution
Replenishment and Order Management
Waste Hierarchy and Reverse Logistics
Module 8: Quality, Technology, and Continuous Improvement
Quality
Technology
Continuous Improvement
The American Production and Inventory Control Society (APICS), also known as the Association for Supply Chain Management (ASCM), is a global provider of Supply chain and Logistics management and offers internationally acclaimed certification programs and frameworks. APICS-certified professionals earn 21% more than their non-certified counterparts.
Blue Ocean Academy is associated with APICS to offer professional certification in Supply Chain Management in the UAE, India and other GCC countries.