Blue Ocean Academy is the first organization in the UAE from the corporate training services industry to win the iconic Superbrands 2021 status. It reinforces its position as the leading name in knowledge empowerment solutions in the MENA region. Distinction by Superbrands, a global independent authority and arbiter of branding, in honor of Blue Ocean Academy's outstanding contribution. Not only that, their dependability to deliver consistently in the field of professional learning and development.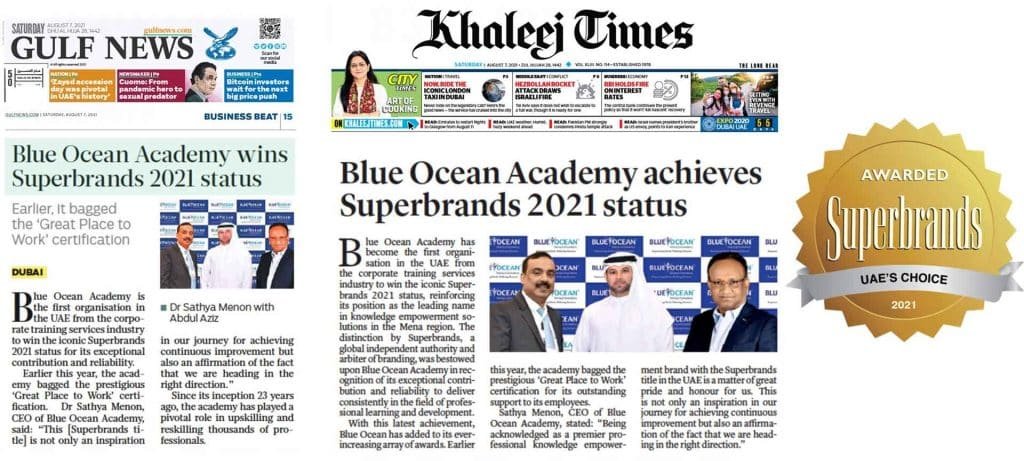 With this latest achievement, Blue Ocean has once again added extra glory to its ever-increasing array of awards. Earlier this year, the academy bagged the prestigious "Great Place to Work" certification for its outstanding support to its employees. Dr. Sathya Menon, CEO of Blue Ocean Academy remarked, "We are thrilled to announce that Blue Ocean Academy is the UAE's first entity from the professional training services industry to have won the illustrious Superbrands status.
The feeling is truly incredible." Dr. Menon further added, "Being acknowledged as a premier professional knowledge empowerment brand with Superbrands title in the UAE is a matter of great pride and honor for us. This is not only an inspiration in our journey for achieving continuous improvement. It is also an affirmation of the fact that we are heading in the right direction." With awards galore to its name, Blue Ocean has indeed carved its unique space as a distinct market leader in corporate training programs.
Programs related to procurement, logistics, supply chain, finance, human resources, administration, quality management, aviation, and travel.
Since its inception 23 years ago, the academy has played a pivotal role in upskilling and reskilling thousands of professionals.  Hence, the academy is earning a reputation for shaping the largest network of supply chain management executives in the Middle East. "Attaining the Superbrands status is a prestigious accolade for any organization. Blue Ocean has once again raised the bar by becoming the first corporate training enterprise in the UAE to win this coveted title," stated Mr. Abdul Aziz, Chairman, Blue Ocean Academy.
Receiving Superbrand status and offering brands great recognition. Also, the advantage of strengthening their brand position. The Superbrands Council hand-picks the top brands from among the hundreds that compete for this prestigious title each year. They pick after a rigorous evaluation and voting procedure. Superbrands operates in 90 countries and has worked with over 35,000 leading international brands. Some of the top names awarded with Superbrand status include ADNOC, Dubai Duty Free, and Mashreq. It also includes RAK Ceramics and ENOC to name a few.
Alex Bibi, Brand Liaison Director of Superbrands said "Blue Ocean Academy is the first brand from the corporate training services background in the UAE to attain the Superbrands designation. They are one of the top selected organizations chosen for 2021 by the UAE Brand Council. Our best wishes to them for a steady and successful future."
About Blue Ocean: Headquartered in Dubai and having a strong presence in the entire GCC Market, Blue Ocean is one of the largest knowledge empowerment enterprises. They are based in the Middle East region with over 23 years of experience. The organization has served more than 90,000 alumni worldwide. It has offered 80+ customized training programs and has a global network of certified trainers, international affiliations and multinational partners. Blue Ocean Academy specializes in designing courses that bridge the gap between infrastructure and knowledge. It imparts futuristic skills to a new genre of industry leaders. It is also shaping them into dynamic professionals in an increasingly competitive world.