Certified International Supply Chain Professional (CISCP) from the International Purchasing and Supply Chain Management Institute, USA
For all aspiring logistics professionals, the IPSCMI "Certified International Supply Chain Professional" followed by the "Certified International Supply Chain Manager is a two-step qualification specially designed to carve out top-notch careers. A prestigious qualification recognized all over the world, logistics professionals learn new skills and innovations necessary to deal with modern shipping, production and distribution methods.
Download Course Brochure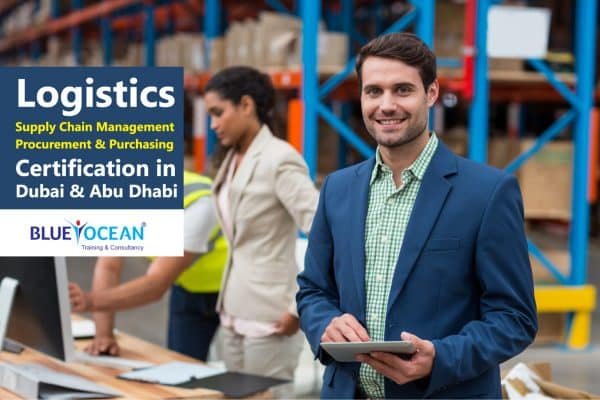 Join Logistics and Supply Chain Training courses in Dubai, UAE with Blue Ocean Academy an ISO certified organization and a leading management training and educational consultancy firm with headquartered in the UAE with a strong presence in the Saudi Arabia, Oman, Kuwait, Bahrain, Qatar, Sri Lanka and India, Blue Ocean stands on an enviable reputation built on 20 years of training, 80,000 alumni worldwide, a global network of certified trainers, international affiliations and multinational partners.
In the current global market the demand is shifting from the mere presence of logistics professionals to heads of enterprises who can define and create new processes and ensure that they are consistent with new world procedures.
Studies have also indicated that certified professionals are paid 48 percent higher salaries than non-certified professionals. Herein lies the importance of such international certifications – you learn to carve a niche for yourself in the professional world with the aid of the new knowledge you acquire, get paid far more and reach the peak of your career with perfect ease.
Program Director: 

Dr. Sathya Menon is a trailblazer in logistics and supply chain education in the Middle East. He has 25 years of experience (including consulting and training) in the field of Logistics, Supply Chain Management and Purchasing. He has worked with various MNCs like Ericsson, Compaq and large conglomerates like Samtel, Al Futtaim helping them to expand their Supply Chain operations. He have trained more than 25,000 professionals in the field of Logistics, Procurement and Supply Chain.
Qualifications  
PhD in Logistics and Supply Chain Management
MBA in Supply Chain Management
MBA in Materials Management
MCIPS from Chartered Institute of Purchasing and Supply (CIPS), UK
Certified SAP Consultant for Supply Chain Management from SAP, Germany
FCMI from Chartered Management Institute (CMI), UK
Certified Purchase Manager (CPM) from Institute of Supply Chain Management (ISM) , USA
Certified International Supply Chain Manager (CISCM) from International Purchasing and Supply Chain Management Institute (IPSCMI), USA
Certified International Commercial Contracts Manager (CICCM) from from International Purchasing and Supply Chain Management Institute (IPSCMI), USA
Certified International Professional Training Consultant (CIPTC) from American Certification Institute (ACI), USA
Certified Professional Purchasing Manager (CPPM) from American Purchasing Society (APS), USA
Certified Purchasing Professional (CPP) from American Purchasing Society