While you possess the skills to lead your team, are you confident enough to be a leader in Supply Chain Management? The Certification in Supply Chain Leadership will equip you with the skills required to manage complex supply chains and deal with disruptive events. Develop healthy relationships with stakeholders, creating a culture of sustainability and corporate social responsibility and ensure business continuity with international certification from the Chartered Institute of Logistics and Transport (CILT), UK.
The course is suitable for Executives, Directors, CEOs, COOs, CFOs, CTOs, Supply Heads, Senior Managers, Business Unit Leaders, Regional Heads, Risk Managers, Enterprise Performance Managers, Strategy Managers and anyone else who wants to gain a fundamental understanding of the requirements of leading a supply chain.
Course Outline
Description of the modern Supply Chain Leader
Workplace & Leadership Competencies specific to Supply Chains
The Leadership lifecycle
Strategic overview & management of resources and stakeholders
Creating a culture of sustainability and corporate social responsibility (CSR)
Understanding change
Governance of supply chains: An overview of Governance, Risk & Compliance (GRC)
Keeping pace with emerging technologies
Continuous Professional & Personal development as a leader
Ensuring Business Continuity
An overview of ISO 22301 and ISO 22316
PROGRAM DIRECTOR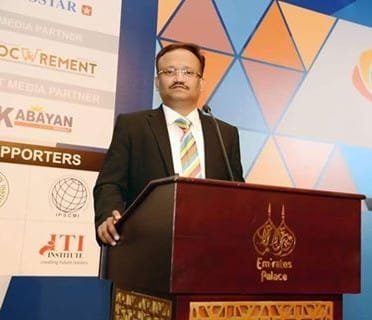 Dr. Sathya Menon
FCIPS, FCILT, FCMI, CPM, CISCM, CPPM, CICCM, CERTIFIED SAP CONSULTANT – SCM/MM
Dr. Sathya Menon is a trailblazer in logistics and supply chain education in the Middle East. He has 25 years of experience (including consulting and training) in the field of Logistics, Supply Chain Management and Purchasing. He has worked with various MNCs like Ericsson, Compaq and large conglomerates like Samtel, Al Futtaim helping them to expand their Supply Chain operations. He has personally trained more than 25,000 professionals in the field of Logistics, Procurement and Supply Chain.
Qualifications  
PhD in Logistics and Supply Chain Management
MBA in Supply Chain Management
MBA in Materials Management
FCIPS – Chartered Fellow of the Institute of Purchasing and Supply (CIPS – UK)
FCILT– Chartered Fellow of the Institute of Logistics and Transportation (UK)
Executive Program in Artificial Intelligence – Future and Impact on Business Strategy – From MIT Sloan School of Management
Certified SAP Consultant for Supply Chain Management from SAP, Germany
FCMI – Fellowship from Chartered Management Institute (CMI), UK
Certified Purchase Manager (CPM) from Institute of Supply Chain Management (ISM) , USA
Certified International Supply Chain Manager (CISCM) from International Purchasing and Supply Chain Management Institute (IPSCMI), USA
Certified International Commercial Contracts Manager (CICCM) from from International Purchasing and Supply Chain Management Institute (IPSCMI), USA
Certified International Professional Training Consultant (CIPTC) from American Certification Institute (ACI), USA
Certified Professional Purchasing Manager (CPPM) from American Purchasing Society (APS), USA
Certified Purchasing Professional (CPP) from American Purchasing Society