CILT – Chartered Institute of Logistics and Transport is a professional body representing the transport and logistics industries worldwide. It is a membership based organisation with over 30,000 members in over 30 countries. This international body is also known as CILT International.
Blue Ocean, the region's largest knowledge empowerment enterprise strikes an exclusive deal with the CILT – Chartered Institute of Logistics and Transport, London to offer top of the range transportation and logistics training to Middle East professionals, enhancing skills and encouraging them to embrace the "winds of change" sweeping through the region.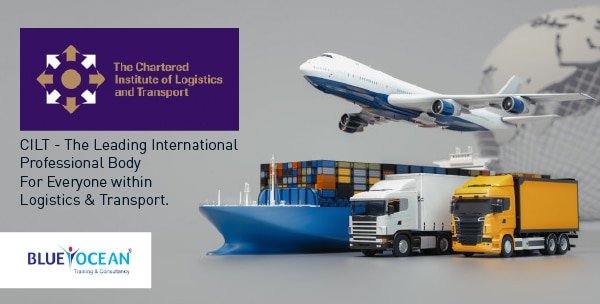 Module 1: Management in Logistics
Aviation Logistics
Air Cargo
Supply chains under pressure
Air cargo's strengths
Model shift
Air Cargo History
Globalization
Environmental pressure
Airport types
Integrators
Cargo Handling Agents – The Impact of It
Operations at cargo agencies, airlines, and freight forwarders
Air cargo acceptance basic rating principles
Air waybill completion
Industry terminology and abbreviations
Air Cargo Tariff Rules and other cargo manuals
Cargo Security and Risk
Threats to aviation and introduction to cargo security;
Importance of implementation of security measures;
Catering and mail security;
Crime prevention;
Recognition and management of treats;
Human factors in Cargo security.
Maritime Logistics
Defining Maritime Logistics and Its Value
Maritime logistics in concept
Maritime logistics value defined
Strategic significance of maritime logistics value
Concluding remarks
International Maritime Trade and Logistics
Logistics and supply chain management
Logistics and transport
Global trade and international maritime trade
Global trade and international trade
Developing Liner Service Networks in Container Shipping
Background on container shipping
Configuration and design of liner shipping services
Shipping routes, network patterns and port centrality
Supply Chain Integration of Shipping Companies
Tanker Shipping Logistics
Transfer components
Marine terminals
Contractual relationships
Cargo transfer procedures
Cargo losses
Dry Bulk Shipping Logistics
Dry bulk trade
Dry bulk fleet
Economies of dry bulk trade
Principles of dry bulk shipping logistics
Dry Port in Concept and Practice
Intermodality and seaport inland access
Intermodal terminal facilities
The dry port concept
Dry port examples
Port and Logistics Chains: Changes in Organizational Effectiveness
Ports and logistics chains
Port authorities in logistics chains
Module 2: Transport Operations
Shipping Documentation
Ocean Bill of Lading (B/L), Airway Bill (AWB)
Import and Export Documentation
Commercial, Customs & Transportation Documentation
Export-Import clearance of break bulk & containerized cargo
Shipping company & Port formalities
Freight Transport and Logistics
Characteristics of intermodal transport
Containerisation of intermodal transport
Advantages of intermodal transport
Containerisation and intermodal transport
Development of intermodal transport
Combined transport operators and their services
Towards innovative intermodal transport
Road Freight and Transport Management
Definitions of common terms used in road freight haulage
The role of the Transport Manager in the road freight haulage sector and their legal responsibilities
How companies apply for road freight haulage licences and who issues them
National and European regulations relating to the safe operation of road haulage
Passenger Road Transport and its Management
How bus services are operated in the UK and the organisations involved
How to apply for a Public Service Operator's licence
How to apply to operate bus routes and the requirements
The role of the Transport Manager in the process
Module 3: International Business
Inco Terms
Introduction to INCO terms
Four Groups of INCO terms : E, F , C & D
Risk management spectrum
ICC & INCO terms
INCO terms & Carriage risk analysis
Carrier liabilities
Insurance
Buyer & Seller responsibilities
Letter of Credit
Letter of Credit Operations
Types of LCs
Terms of payments in LCs
Role of Bank, Company and Customer
Issuing, Advising and Negotiations
Financial, Transport and other documentation
Straight Credits, Clean Credits
Discrepancies & Resolution
Documentary Credit & UCP 600
Documentary Credits: What & Why?
Settlement of International Trade transactions
Settlement of International Payment instruments
Clean payment vs Documentary collections
Analysis of risks and uncertainties in payment
UCP 600 and Documentary Credit undertaking of banks
Analysis of costs borne by seller and buyer
International Trade
Trade & Marketing Environment (Domestic & Overseas)
Entry into overseas Markets /Strategies for development
Dynamics of Protectionism & Trade Barriers
International Economic Institutions – GATT – WTO, UNCTAD, IMF &
World Bank Groups
Module 4: Transport Planning
Shipping Law & Marine Insurance
Shipping Law
Law of the Sea & Ships
Law of the carriage of Goods by Sea
Adoption & Enactment of International Law in Shipping (UNCLOS)
Contract of A reightment – Bill of Ladings & Charter Parties
Risks, Responsibilities and Immunities of the Carrier under the Law
Rights & Privileges of the Charterer / Shipper
Hague-Visby Rules & Hamburg Rules
Marine Insurance
Aim, Objectives, Policy Types & Coverage
Insurable Interests & Warranties
Insurance of Hull & Machinery & Cargo
General Average – Particular Average, Total Loss
Settlement of Marine claims
Lawful marine adventure & Abandonment
Rail Transport Planning
Introduction
Rail transport resources
The environment
Transport planning tools, requirements
Transport operations
Regulation and Control
Air Transport Planning
Air Transportation Management
The Air Transportation System
Introduction to Air Transportation Law
Introduction to Air Safety and Aviation Security
Civil Aviation Authorities
Impact of Technology in Air Transport