The Stepping Stone to Strategic Leadership Role in Logistics & Transport – CILT (UK) Chartered Institute of Logistics and Transport
CILT (UK) Level 5 International Diploma in Logistics and Transport offers a solid framework for meeting supply chain key challenges and adds to the better optimization and streamlining of transportation and distribution for businesses.
CILT is the Largest Gold Standard professional body of its kind in the world. It is considered as one of the most prestigious qualifications for professionals in the Logistics & Transportation industry and provides a central focal point on related matters for relevant professionals. Throughout the world CILT qualifications are recognized as driving leading edge thinking and professionalism in the Transport & Logistics Industry.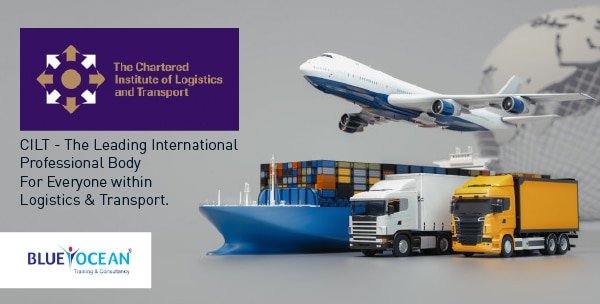 The CILT Level 5 diploma is specifically designed for people who are already working in the logistics and transport sectors. However, fresh graduates who aspire to work in any of these industries can also join this program. The diploma is certified by the Chartered Institute of Logistics and Transport, one of the most prestigious institutes in the UK for professionals leading supply chain operations for the movement of goods and people.
Explore how CILT Level 5 Certification opens up a wealth of opportunities within Logistics and Transport Industry and can take you anywhere in the world.
Course Benefits:
Gain management skills in logistics
Understand transport production & planning
Engage in strategic supply chain planning & operations
Manage international business effectively
Execute improved supply chain performance models
Who Should Attend?
Mid-level executives and supervisors
in the logistics, supply chain and transport sectors
Graduates with non-business degrees
moving into the logistics field
What's Next?
Head on to the higher level with CILT Level 6 International Advanced Diploma in Logistics and Transport
Authorized CILT examination center | Boot camps & exam preparation | Membership assistance | Affordable courses | Interactive online learning | International qualified faculty
Program Director:
Dr. Sathya Menon is a trailblazer in logistics and supply chain education in the Middle East. He has 25 years of experience (including consulting and training) in the field of Logistics, Supply Chain Management and Purchasing. He has worked with various MNCs like Ericsson, Compaq and large conglomerates like Samtel, Al Futtaim helping them to expand their Supply Chain operations. He have trained more than 25,000 professionals in the field of Logistics, Procurement and Supply Chain.

Qualifications  
PhD in Logistics and Supply Chain Management
MBA in Supply Chain Management
MBA in Materials Management
FCIPS – Chartered Fellow of the Institute of Purchasing and Supply (CIPS – UK)
FCILT– Chartered Fellow of the Institute of Logistics and Transportation (UK)
Executive Program in Artificial Intelligence – Future and Impact on Business Strategy – From MIT Sloan School of Management
Certified SAP Consultant for Supply Chain Management from SAP, Germany
FCMI from Chartered Management Institute (CMI), UK
Certified Purchase Manager (CPM) from Institute of Supply Chain Management (ISM) , USA
Certified International Supply Chain Manager (CISCM) from International Purchasing and Supply Chain Management Institute (IPSCMI), USA
Certified International Commercial Contracts Manager (CICCM) from from International Purchasing and Supply Chain Management Institute (IPSCMI), USA
Certified International Professional Training Consultant (CIPTC) from American Certification Institute (ACI), USA
Certified Professional Purchasing Manager (CPPM) from American Purchasing Society (APS), USA
Certified Purchasing Professional (CPP) from American Purchasing Society
Download Course Brochure