CIPS Level 2 Certificate in Procurement and Supply Operations is the ideal qualification if you're just starting your career in procurement or if purchasing and supply are part of your role. It will enable you to recognise and describe the key processes in procurement and build your professional knowledge and competence. It is aimed at entry level people who are new to the workplace and who need to develop their workplace skills and achieve a recognized qualification.
Who Should Consider This Level
• Administrative Assistant • Procurement Assistant/Apprentices • Contracts Administrator • Stock Controller • Merchandiser • Staff involved in the Procurement/Ordering of any goods or services
Courses Contents & Units
The Level 2 Certificate course comprises of 5 Units, which are delivered using a blend of group interaction, case studies and role plays to support the CIPS courseware. We have a clear objective which is to ensure students are able to relate the learning to practical experience in the workplace.
Procurement & Supply Principles
Procurement & Supply Functions
Procurement & Supply Processes
Procurement & Supply Administration
Procurement & Supply Stakeholders
Program Benefits
CIPS is one of the leading certification for the procurement and supply operations professionals world wide.
Certification indicates a high level of professionalism increasing one's value in the market place.
Certification signifies your dedication to continuous improvement.
A survey done by a Purchasing Magazine revealed that certified professionals earn 48% more salary than non certified professionals.
PROGRAM DIRECTOR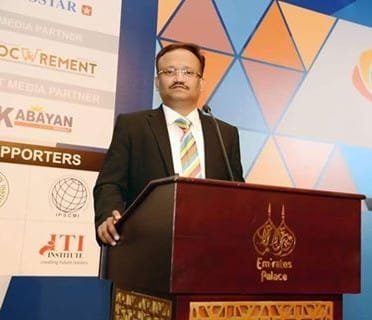 Dr. Sathya Menon FCIPS, FCILT, FCMI, CPM, CISCM, CPPM, CICCM, CERTIFIED SAP CONSULTANT – SCM/MM Dr. Sathya Menon is a trailblazer in logistics and supply chain education in the Middle East. He has 25 years of experience (including consulting and training) in the field of Logistics, Supply Chain Management and Purchasing. He has worked with various MNCs like Ericsson, Compaq and large conglomerates like Samtel, Al Futtaim helping them to expand their Supply Chain operations. He has personally trained more than 25,000 professionals in the field of Logistics, Procurement and Supply Chain.
Qualifications  
PhD in Logistics and Supply Chain Management
MBA in Supply Chain Management
MBA in Materials Management
FCIPS – Chartered Fellow of the Institute of Purchasing and Supply (CIPS – UK)
FCILT– Chartered Fellow of the Institute of Logistics and Transportation (UK)
Executive Program in Artificial Intelligence – Future and Impact on Business Strategy – From MIT Sloan School of Management
Certified SAP Consultant for Supply Chain Management from SAP, Germany
FCMI – Fellowship from Chartered Management Institute (CMI), UK
Certified Purchase Manager (CPM) from Institute of Supply Chain Management (ISM) , USA
Certified International Supply Chain Manager (CISCM) from International Purchasing and Supply Chain Management Institute (IPSCMI), USA
Certified International Commercial Contracts Manager (CICCM) from from International Purchasing and Supply Chain Management Institute (IPSCMI), USA
Certified International Professional Training Consultant (CIPTC) from American Certification Institute (ACI), USA
Certified Professional Purchasing Manager (CPPM) from American Purchasing Society (APS), USA
Certified Purchasing Professional (CPP) from American Purchasing Society