Dr Sathya Menon honored with FCIPS certification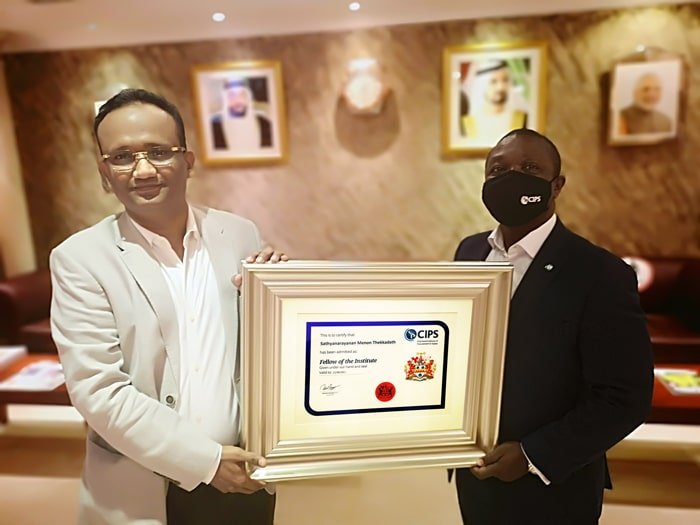 Dr Sathya Menon, CEO of Blue Ocean Academy, was recently recognized as a Fellow of the Chartered Institute of Procurement and Supply (FCIPS), the highest grade of CIPS membership. With this esteemed qualification from the Chartered Institute of Procurement and Supply (CIPS), the UK recognizes individuals as procurement leaders. This accolade honors an outstanding level of achievement, knowledge and experience in procurement and supply. Having the passion and determination to advance the profession for the public good. It also elevates the awardee, Dr Sathya Menon, to an exclusive group of elite professionals who have made valuable contributions to the advancement of the profession. 
Mr. Sam Achampong is the Regional Head and General Manager of CIPS in the Middle East & North Africa (MENA) region. He awarded Dr. Sathya Menon the FCIPS certificate. This fellowship stands as testimony to Dr Menon's exceptional efforts in the development of the profession. It also encourages individuals to learn and implement best practices in the industry. A trailblazer in procurement and supply chain education in the Middle East, Dr Menon is also the recipient of fellowships from prestigious international bodies. International bodies like the Chartered Institute of Logistics and Transport (CILT), UK and the Chartered Management Institute (CMI), UK.
Dr Menon is a strong proponent of Purchasing and Supply Chain Management education, particularly in the Middle East. He has more than 25 years of experience (including consulting and training) in the field of Logistics, Supply Chain Management and Purchasing. He is also a Certified SAP Consultant and holds an MBA and Doctorate in Logistics and Supply Chain.
Dr Sathya Menon, who heads Blue Ocean Academy, has worked with various MNCs like Ericsson, Compaq, Haier and large conglomerates like Samtel and Al Futtaim. He is helping them to expand their Supply Chain operations. Currently, he guides an expert panel of consultants at Blue Ocean Academy to help businesses streamline their operations to reduce costs. Also, to become profitable even during these challenging times. He champions Business Process Re-engineering (BPR) efforts, which is the need of the hour and brings with him the expertise of industry knowledge across multiple domains.
Under his leadership, Blue Ocean Academy has experienced steady growth and has become a well-recognized brand in the training industry. Blue Ocean is always driven to add value to all the stakeholders in the business, be it a customer or an employee. Dr Menon initiated free training programs during these trying times to help people upgrade themselves and forge ahead in their careers. Thousands of people, including citizens of the UAE, Sultanate of Oman, Nigeria and Azerbaijan, have benefitted from the free training. Also in the scholarship schemes that were implemented by Blue Ocean. Currently, a program has been launched to provide free training to frontline healthcare professionals and Blue Ocean Alumni.
Blue Ocean Academy is one of the most reputed professional training institutes in the Middle East. It has a strong presence in the UAE, and other GCC countries, Nigeria and Azerbaijan. "Learning is an ever-continuing process. Professionals must always be on a quest for knowledge if they believe in career advancement. As the world is changing at a fast pace, with new technology coming up every minute, we need to ensure that we stay abreast of the changing trends in our industry," remarked Dr Sathya Menon.
Awards
In an illustrious career spanning more than two decades, Dr Sathya Menon has received several awards. Awards for being an outstanding employer, an eminent leader, and a great influencer in society. Some of the most recent awards include:
"Top 100 Leaders in Education" Award given by Global Forum for Education and Learning (GFEL), Dubai, 2019
"CEO of the Year" Award given by the prestigious Middle East Training and Development Leadership Conference, Dubai, 2019
The Arjun Award from the Hindustan Art & Music Society for significant contribution in the field of Social Service throughout the world, Dubai, 2019
Best Training Initiative in Logistics and Supply Chain Management in Asia and Malaysia, 2018
Outstanding Contribution to Global Learning, Dubai at the World HRD Congress, Dubai, 2018
Global Training and Development Leadership Award, Mumbai, 2017
Sudipta Chatterjee, Program Director (Procurement & SCM) Quality Management, since its inception more than a century ago, has evolved from…