Dr. Sathya Menon
FCIPS, FCMI, CPM , Certified SAP Consultant – SCM/MM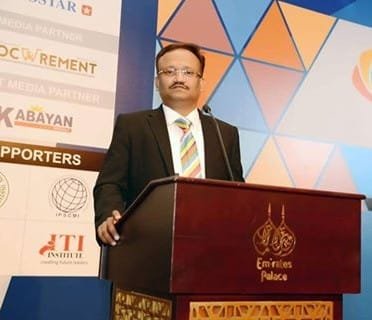 Dr. Sathya Menon is a trailblazer in logistics and supply chain education in the Middle East. He has 25 years of experience (including consulting and training) in the field of Logistics, Supply Chain Management and Purchasing. He has worked with various MNCs like Ericsson, Compaq and large conglomerates like Samtel, Al Futtaim helping them to expand their Supply Chain operations. He has personally trained more than 25,000 professionals in the field of Logistics, Procurement and Supply Chain.
Qualifications
PhD in Logistics and Supply Chain Management
MBA in Supply Chain Management
MBA in Materials Management
FCIPS – Chartered Fellow of the Institute of Purchasing and Supply (CIPS- UK)
FCILT– Chartered Fellow of the Institute of Logistics and Transportation (UK)
Executive Program in Artificial Intelligence – Future and Impact on Business Strategy – From MIT Sloan School of Management
Certified SAP Consultant for Supply Chain Management from SAP, Germany
FCMI – Fellowship from Chartered Management Institute (CMI), UK
Certified Purchase Manager (CPM) from Institute of Supply Chain Management (ISM) , USA
Certified International Supply Chain Manager (CISCM) from International Purchasing and Supply Chain Management Institute (IPSCMI), USA
Certified International Commercial Contracts Manager (CICCM) from from International Purchasing and Supply Chain Management Institute (IPSCMI), USA
Certified International Professional Training Consultant (CIPTC) from American Certification Institute (ACI), USA
Certified Professional Purchasing Manager (CPPM) from American Purchasing Society (APS), USA
Certified Purchasing Professional (CPP) from American Purchasing Society
John Ellis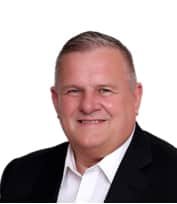 John Ellis, from the UK, is a qualified NLP Life Coach and Executive Mentor. He practices with hundreds of executives every year and thousands of people have attended John's motivational talks and seminars. He is the author of a book, 'The 28 Golden Rules of Personal and Business Success'. John also practices in Hypnotherapy and Complete Mind Therapy. He works around the world in countries such as the USA, Canada, Bahrain, Oman, Qatar, KSA, UAE, India and the UK.
John has started and developed a multitude of companies in various industries such as Aviation, Aerospace, Automotive, Travel, Health, Marine, Tourism, Safety and Security, which he has then ultimately sold. He is also experienced in mergers and acquisitions, as well as advising and mentoring Company Board Executives. He delivers training courses in areas such as HR, Change Management, Negotiation, Sales and Communication Skills. John also speaks at conferences and events worldwide and appears on Sky News and BBC World News to talk about HR and industry issues.  
Dr. R.S. Chalapathi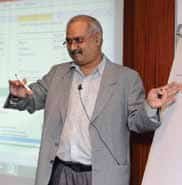 Qualifications
 PhD in Quality from IIT, Kharagpur
M.Tech from IIT, Kharagpur
B.Tech in Mechanical Engineering
Certified Lean Master Black Belt
Certified DFSS Master Black Belt
Certified Lean Six Sigma Master Black Belt
Certified Trainer from CBI, Netherlands
Certified Lead Auditor ISO-9000
Papers Presented at Conferences
Presented a paper at 8th World Congress for Total Quality Management, Dubai in 2003.
Invited speaker at World Congress on Total Quality Management, Bangalore, Organized by Institute of Directors, 2004.
Invited speaker at Six Sigma Conference 2005, Jakarta, Indonesia.
Invited speaker at 2nd Six Sigma National Conference 2005, Colombo, Sri Lanka.
Invited speaker at 4th Six Sigma National Conference 2007, Colombo, Sri Lanka.
Invited speaker at 3rd National HR Meet 2010, Nepal.
Percy Engineer
Percy passionately believes that training sessions should be participative, challenging, thought-provoking, intensive and enjoyable. Using a participatory approach and consultative training style, he puts students at ease while honing their skills and teaching them to put their learning to practical use.
Achievements
Winner of 'TOP GUN' from BEST BUY Canada for continued excellence in driving and maintaining business process while leveraging sales in all categories.
7 Times Award Winner as World's "Best Sales Performance" from RICOH Japan and RICOH Europe (1991‐1999 ).
Experience
More than 3 years of experience in training professionals from varied fields and industries in Purchasing, Supply Chain Management, Retail Sales & Customer Service
Over 9 years of experience in Retail Operations with multinational companies in Middle East & Canada
13 years of experience in Institutional Sales form the Office Automation industry
Rajesh Bhandari
Rajesh Bhandari has over 23 years of decisive executive leadership in diverse industry verticals. A seasoned result- oriented professional with demonstrated abilities in Strategic Planning, Operations Management, Sales and Marketing, Project Management, Contract Management, Supply Chain Management, Purchase & Procurement, Warehouse and Distribution, Inventory management, Business Expansion and Resource Management.
Qualifications
Bachelor of Mechanical Engineering
MBA in Finance and Marketing
Certified International Supply Chain Manager, USA
Six Sigma Green Belt Certified, USA
Certified International Supply Chain Consultant, USA
Certified Professional Purchasing Manager, USA
Certified International Purchasing Consultant, USA
Yogesh Singh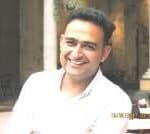 CLP, CPA, COD, CPSM, Six Sigma Black Belt, EMBA
A mindful people, performance & process leader, associated with best learning institutions like Harvard University, MIT, IIT Delhi, IIM Banglore and Stanford University. He has experience of training over 5000 professional across all levels of hierarchy and delivered over 2500 hours of training. He has over 12 years of experience in progressive HR & Organizational Development roles and co-founded two startups. He has developed & delivered various training programs for organizations such as Dubai Govt., Reliance life insurance, Bajaj Allianz, Power bulls market, Park Hospitals, Skyra professional tableware, Varuna group of companies & Alam group of companies.
Sudipta Chatterjee
Professional with more than 25 years of experience in the domain of Supply Chain Management, Operations and Training & Development. Successfully worked in challenging roles in the following organizations:
India Carbon Limited – Pioneer in the field of Calcined Petroleum Coke having set up the
first Calcining Plant in Asia in 1962.
Bharti Airtel Limited – Third largest mobile telephone service provider in the world.
CESC Limited – Power Utility (Flagship Company of the USD2.5 Billion RP-SG group), India.
Academic Qualifications:
Bachelor of Electrical Engineering from Jadavpur University, Kolkata (India), 1991.
Post Graduate Diploma in Statistical Quality Control from the Indian Association for Productivity, Quality & Reliability (IAPQR), 1996 – Ranked First and awarded the "P C Mahalanobis" medal.
Passed the Membership Examination of the Chartered Quality Institute, formerly known as the Institute of Quality Assurance (IQA), UK, 2000.
Certified Six Sigma Black Belt from the American Society for Quality (ASQ) in 2005. Recertified in the year 2009.
Publications
"Prioritization of Service Quality Parameters based on Ordinal Responses" – Journal of Total Quality Management and Business Excellence, UK, Vol.16, No.4, pp. 477-489, June 2005 – co-author, Prof. Aditya Chatterjee, Dept. of Statistics, Burdwan University.
"Towards Enhancement of Economy of a Thermal Power Generating System through Prediction of Plant Efficiency" –Journal of Applied Statistics, UK, Vol. 34, Issue 3, 2007, pp. 249 – 259, (co-authors Prof Indranil Mukhopadhyay, University of Pittsburgh, & Prof Aditya Chatterjee, Burdwan University)
In addition, published articles in various national journals in India.
Training Experience
Served as a faculty member of the Indian Institute of Materials Management for their flagship training courses viz. the Graduate Diploma in Materials Management and the Post Graduate Diploma in Materials Management during 1997-98 till 2005-06. Served as a part time faculty member at St. Xavier's College, Kolkata, for 'Materials Management' paper for students pursuing Bachelor of Business Administration (BBA), during 2003-04 to 2005-06. Conducted training programs on various topics in Supply Chain Management in corporates like the Institute of Port Management, Kolkata, India; Hindustan Paper Limited, Kolkata, India; National Thermal Power Corporation, Talcher, India.
UMESH KOTHARI
Umesh Kothari has over 25 years of rich industry experience in strategy and customer experience in diverse markets such as UAE, USA and India. He has a proven track record for implementing research insights and helping organizations to meet their strategic objectives.  The organizations include Union National Bank, HSBC, Pepsi Cola, Emaar Properties, MasterFoods, National Commercial Bank, Gulf Air, Cadburys and Unilever.
Umesh is a highly seasoned, passionate and service-minded strategy and customer experience professional with a sound knowledge. Adept at working in agile environments. He has rich experience in cultural transformations and large change programs demonstrating a strong ability to foster change.
Umesh has mentored and coached over 30 students with their industry projects. He has been associated with prestigious educational institutions in the UAE and India.
Umesh has an MBA from Willamette University, USA and a Masters in Commerce from Mumbai University.
His professional skills are as below.
Leadership                                        
Effective Communication            
Customer Relationship Management
Strategy Formulation                   
Customer Insights/Market Research
Balanced Score Card Management
Problem Resolution       
Data Analytics   
Project Management
Customer Service           
Complaint Management              
Negotiation
He has authored papers and articles for International Research Associations such as ESOMAR and print magazines. As a Deputy Team Leader Umesh has assessed organizations for excellence on behalf of Dubai Quality Award Group. The feedback provided through the assessment has been implemented by the organizations. He was a Jury Panel Member in ESOMAR (International Research Association) chartered with responsibility of setting agenda and evaluating papers presented at its Dubai regional conference.
Dr. Sangeeth Ibrahim
A Learning & Development Specialist, Human Resources SME, Business Excellence (EFQM) Consultant and Corporate Trainer/Executive Coach with 20 years proven track record of success across multiple industries, seeking an opportunity to add value to the mission of unleashing human potential in the right organization
AREAS OF EXPERTISE
Designing and deploying Learning and Development interventions, based on the ACADEMIES framework to exceed business needs.
Delivering trainings using best in class models like Accelerated Learning Techniques, 70:20:10 and 5 moments of learning need.
Delivering coaching using reputed models like Stakeholder Centered Coaching, NLP, EI, TA, CBT and Appreciative Inquiry.
Deploying over 8 reputed Psychometric instruments including MBTI, TA, FIRO-B, DISC & Belbin & Enneagram.
Designing HR interventions like Performance Management, Surveys, Engagement and Succession planning programs.
Deploying EFQM and other excellence models particularly in the area of setting aligned KPIs and SMART goals with Lag and Lead Indicators.
Strategic planning and execution using best in class models like BSC and 4DX.
Submitting successfully for EFQM based award programs like DQA, SKEA, DHDA and MRM.
Awards and Recognitions:
He was awarded the Asian HR Leadership award in 2012 by the confederation of businesses for his contributions to Learning and Development in the region. In 2014 he was awarded as the Rising Star by PSG Institute of Management. In 2016 he was honored with the prestigious Shaikh Hamdan Award for the Distinguished Family. In 2016 his team was selected as the best DHDA assessment team by the Department of Economic Development, Government of Dubai. He was included in the 100 most powerful Malayalees in the UAE publication by IMG. He features in the 100 Global minds in Learning and Development published by the World HRD Congress. In 2018 he was honored as the best DHDA Team leader by the Department of Economic Development, Government of Dubai.
Ramachandran VS
Ramachandran V S is a qualified Chartered Accountant and holds other qualifications such as CIA, CISA, CFE and AICWA. He has more than 25 years of hands-on experience having worked in Oil & Gas, Aviation and Ferro-Alloy industries as well as Big 4 Audit Firm experience. He is also a Lead Assessor with Dubai Quality Award for more than a decade. Besides rendering many training programs on Finance and Audit, he has also spoken in several international conferences.
Pallavi
A qualified post graduate Civil Engineer and Project Management Professional with over 10+years of extensive exposure and expertise in project management and contracts management of real estate projects, green residential projects and commercial spaces and 650+ hrs of Project Management Trainings. Also a certified ISO 9001:2008 auditor. Demonstrated an ability to understand processes, engineering drawings, schematics, specifications, test methods and international standards in previous assignments. Competent to perform under work pressure, to meet deadlines and to convert customer voice into reality. Motivated and committed by personality with excellent analytical, problem solving, planning, organizing, technical correspondence and time management skills.