It has been a rewarding experience to support the Omani nationals by providing complimentary online training in challenging times. While the whole world is facing the fear of layoff and financial difficulties, the decision of Blue Ocean Academy to offer complimentary training to the OMANI citizens has helped several individuals in developing skills and efficiently tackling the challenges in the tough market. The feedback from the students and support from the media encouraged us to continue the initiatives.

Due to overwhelming response we have added more batches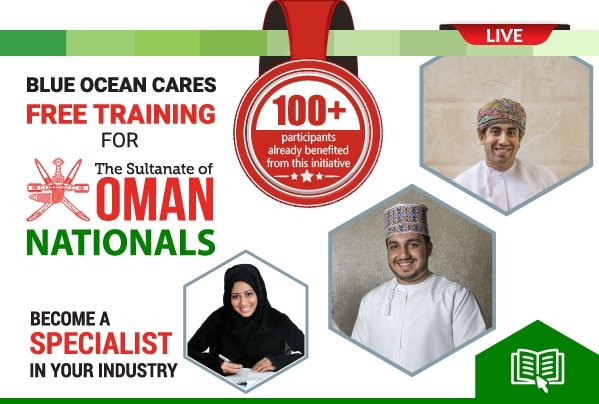 We are delighted to inform you that we have completed 6000+ hours of online training and 72 hours of Free webinars which were all facilitated by industry experts. We have received 100% positive feedback for the online training and insightful webinars which is evident in the 1000+ Google Reviews.

The passing rate in the international certification examinations was 98%. The training and international certification have helped our students in their job hunt and enabled the professionals to attain higher roles in their organizations. It is a matter of pleasure to continue the complimentary training for OMANI'S as the previous results have been extremely positive and rewarding.
Following are the course categories in which we are offering training:
Logistics and Supply Chain
Procurement and Purchasing
HR & Admin
Contracts Management
Quality Management
Accounting & Finance
*** Examination Fee needs to be paid to the concerned International Certifying Body.
Feedback from Pmani students
The Omani nationals were extremely happy to join our free training sessions. It's a matter of pride that we could support them with free online training and we have succeeded in meeting their expectations.
Blue Ocean featured in press
Refine your skills with an Award Winning Organization
Recognized across Middle East and Asia