Ramp Agents, also known as baggage handlers or fleet service agents, are employed at airports and work within a larger team of airport ramp agents. They provide under-wing services to aircraft, act as marshals, set up and operate baggage and cargo management equipment, and adhere to strict occupational safety regulations.
Ramp Agent Responsibilities:
Guiding aircraft to and from gates and backing them up for take-off.
Parking arriving and departing aircraft.
Placing chocks and cones around aircraft.
Loading and unloading arriving and departing aircraft cargo, baggage, and mail onto carts and/or dollies.
Providing special handling of baggage, cargo, and mail, as required.
Collecting, loading, and unloading live animals and dangerous goods on and off aircraft, when necessary.
Delivering passenger baggage to the claim area and unloading baggage onto the conveyor system.
Performing cabin maintenance and cleaning services, including restocking the aircraft.
Operating ground support equipment, including aircraft stair units, container loaders, aircraft ground power units, water/lavatory service trucks, aircraft de-icing units, cargo dollies, and passenger vans, when necessary.
Reporting all equipment malfunctions to the appropriate supervisor/manager.
Complying with all airport authority and carrier security requirements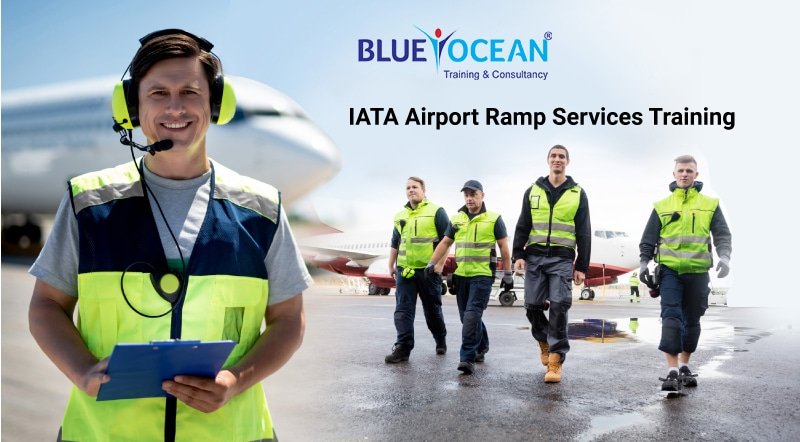 <![CDATA[An airport ramp agent plays an important role in ensuring that flights run on time. Loading and unloading baggage is just one of the main duties of this position. In a short period of time, airport ramp agents must keep records of shipped goods, move cargo to and from the aircraft, and document damage and mishandled items. IATA - Airport Ramp Services Course offers an introduction to ramp services as well as the ground handling standards and safety requirements you need to know to work safely on the ramp.
Our Airport Ramp Operations Course comes with an Internship option at Sharjah Airport (Sharjah Aviation)  IATA – Airport Ramp Services Course Contents: 

Introduction to airport ramp services
How an airport works
Aircraft ground handling
Aircraft loading and unloading
Wide-bodied, containerized aircraft and dangerous goods
Catering
Other ground handling services
Airside safety
Security
Future in the industry
Designed for
This course is recommended for
Fresher's who wish to start a career in Airport Ramp Service
Ground Handling Agents
Recently appointed airport staff
Ramp Service Agents who wishes to get certified by IATA for career growth and promotions
HIGH LIGHT:
Upon successful completion, you will be awarded Course Completion Certificate from Blue Ocean Training Academy,
IATA CERTIFICATE
Internship Certificate from Sharjah Airport