The Lean Six Sigma Black Belt certification is a highly sought-after and rewarding certification in quality management.
The skills and recognition that come with this training will help you move into leadership and management positions. Black belt professionals have a deeper level of understanding of lean principles, tools and techniques, and DMAIC methodology. They can easily identify the non-value-added activities in the process and implement specific tools to rectify it.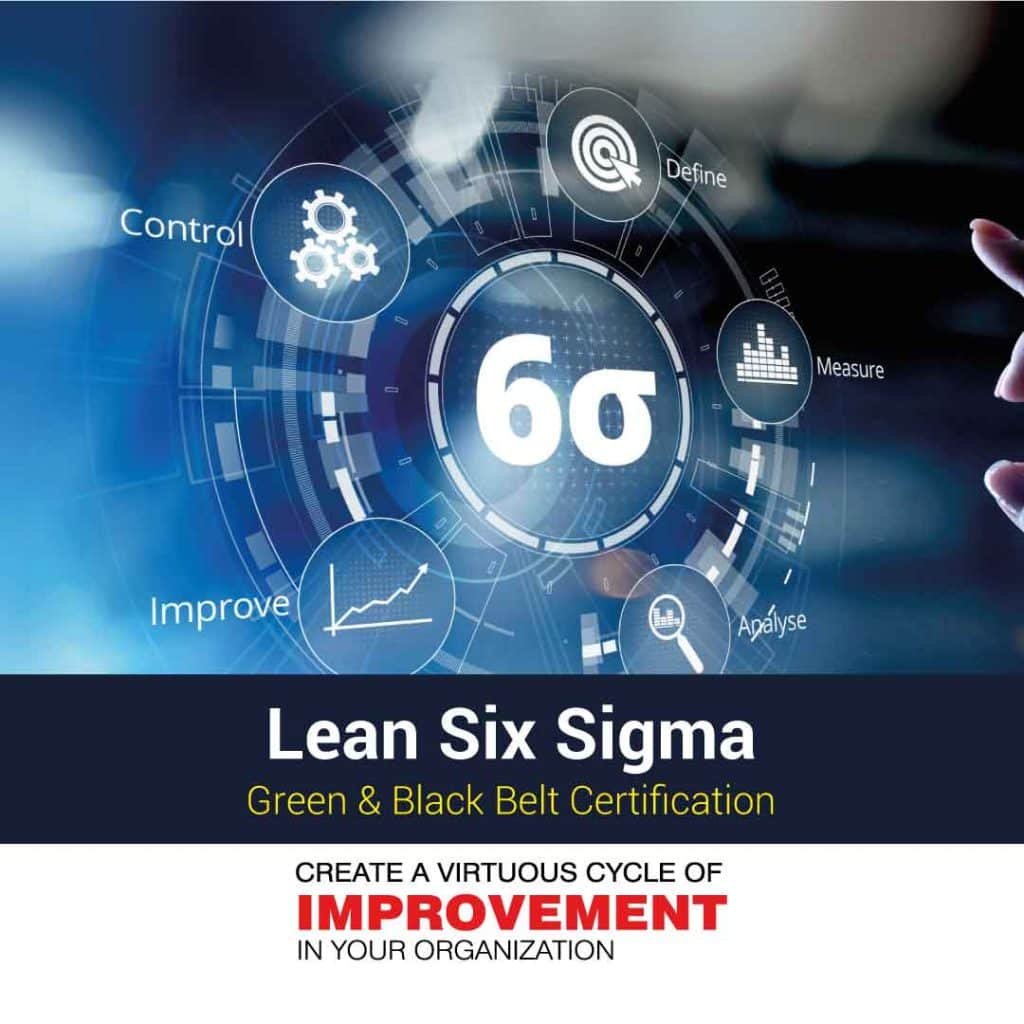 The Lean Six Sigma Black Belt Certification course is the final step of the Lean Six Sigma Journey. Aa a Black Belt, you will be engaged in large scale transformation projects, company-wide changemanagement programs. Lean Six Sigma Black Belt course has a comprehensive curriculum that covers the American Certification Institute (ACI) USA Body of Knowledge (BoK).
Lean Six Sigma Black Belt Modules
Lean Six Sigma Black Belt has a comprehensive curriculum that covers the American Certification Institute (ACI) USA Body of Knowledge (BoK). The time required to complete this course is 28 Hours (Breaks not included).
Module I – Introduction to Statistics and Estimation
Introduction to Statistics
Measures of Central Tendency & Dispersion
Types of Variation
Normal Distribution
Characteristics of Normal Distribution
Control Limits and Specification Limits
Normal Distribution versus Standard Normal Distribution
Areas and Probabilities in a Normal Curve
Probabilities of Defects – Intro to Z – Value
Empirical Cumulative Distribution Function
Estimation – Graphical Summary
Confidence Interval and Confidence Level
Calculate Baseline Performance: FPY, TPY, RTPY, Process Capability
Module II – Data Visualisation Tools
Normal Probability Plot
Visualising Data with Single Variable
Histogram
Box Plot
Pie Chart
Bar Chart
Visualising Data with two Variables
Scatterplot
Box Plot with Groups
Transposed Box Plot
Stacked Bar Graph
Module III – Hypothesis Testing
Root Cause Validation using Statistical Thinking
Introduction to Hypothesis Testing
Understanding Null/ Alternate Hypothesis & p-Value
Steps to perform Hypothesis Testing
Types of Hypothesis Tests & Process

1 Sample z- Test
1 Sample t-Test
ANNOVA
2 – Sample T Test
Kruskal Wallis Test
Linear Regression
Logistic Regression
Chi-Square Analysis

Overview of Design of Experiments
Module IV – Control Charts
Introduction to Statistical Process Control
Common Cause versus Special Cause
Components of a Control Chart
Rational Sub-Grouping
Tests in Control Charts
Types of Control Charts
I-MR Chart
X-Bar R Chart
X-Bar S Chart
P Chart
NP Chart
U Chart
C Chart
The six sigma certification helps you understand advanced analysis which in turn helps to resolve problems that affect quality. The six-sigma certification benefits ambitious professionals by offering leadership roles, managerial posts, increased remuneration and job security. It aids employers in several ways including reduced waste, errors and defects in the processes, increased efficiency, revenue, customer satisfaction and brand value. The six-sigma certification ensures compliance with international standards.
Why learn lean six sigma?
Lean six-sigma is derived from a combination of Lean and six sigma principles. Lean focuses on removing waste of physical and manpower resources by identifying the causes of defects, overproduction, waiting, non-utilized talent, transportation waste, inventory waste, waste of motion, and extra processing. Whereas, six-sigma focuses on enhancing process control by lowering process variation.
Learning the lean six-sigma will help in validating professionals who are skilled in identifying risks, errors or defects in a business process and eliminating them. Lean six sigma uses Six Sigma techniques to identify and eliminate wasted resource use that doesn't generate value for the end user while continually working to achieve the goal of eliminating defects in the products and processes.
What is six sigma certification?
The six sigma Certification is a quality control certification program aimed at educating professionals in the process of analyzing processes and outcomes to reduce waste and defects. It involves a set of tools and techniques used by companies to improve production processes, eliminate defects and ensure quality. The certifications are awarded in levels using a belt classification similar to belt levels used in martial arts – White Belt, Yellow Belt, Green Belt, Black Belt, Master Black Belt, and Champion. The different belts correspond to different levels, from a primary end user to a master six-sigma user as a senior quality control member.
Six-sigma is advantageous to both employees and employers since it reduces waste and errors, enhancing the value of the company to consumers and end users. As a result, there could be increased customer happiness, increased sales, better pay, and improved goods.
The Six Sigma Green belt is awarded for learning the principles of six-sigma and implementing them under the guidance of a black belt in real projects. It trains and certifies professionals that will directly participate in six-sigma projects. The green belt develops enhanced problem-solving skills and teaches you to apply statistical methods for process improvement.
It equips employees with the skills and resources needed to take charge of projects from the start, detect problems early, prepare the team to come up with workable solutions, and keep a critical mindset to make sure that procedures are sustainable to retain maximum efficiency.
The Six sigma Green Belt training is ideal for anyone looking to get the most out of their career. Green six-sigma ensures improved customer satisfaction and consistent increase in profitability. The green belt certified professionals usually manage small-scale projects and support Black Belts in larger projects.
How to become six sigma certified?
To get certified in six sigma, you must enroll in a certification course and pass an exam. Employers may offer certification officially through their own organization at times. If not, you can enroll in a course offered by trustworthy training certification companies. First, you must understand the organizational requirements and choose between six-sigma or lean six-sigma based on the level you are aspiring. Following that, learn about the tests involved and enroll in a training course and get certified post the successful completion of the exam.