Join the best warehouse management training course in Dubai or Abu Dhabi with Blue Ocean Academy, the industry leaders in warehouse and inventory management training. Our trainers are certified professionals with excellent professional training experience By joining our warehouse management course students will develop and sharpen the knowledge necessary to formulate solutions and the understand how warehouse operations are important to fulfil clients' requirements while utilising area, system, and exertions efficiently, meeting this intention requires regular planning of inventory and warehouse management.
Warehouse Management
Module I: Introduction to Warehousing and Inventory
Definition of inventory
Importance of inventory and warehousing
Warehouse location
Types of warehouses
Strategic warehousing
Distribution centers and cross docking
Role of the Warehousing and Inventory Manager
Module II: Warehouse Operations
Warehouse functions – Receipt, inspection, storage and retrieval
Warehouse design and layout
Packaging and shipping
Safety and security in warehousing
Legal and regulatory compliance
Scrap disposal
Module III: Materials Handling
Principles of Material Handling
Material handling equipment
Unitization and Palletization
Automation in warehousing – Pick-to-light, Put-to-Light, use of robots
Modern storage systems
Module IV: Inventory Management
Types of Inventory
Costs Associated with Inventory
Economic Order Quantity (EOQ)
Limitations of the EOQ approach
Selective Inventory Control Techniques like ABC, VED, FSN etc.
Vendor Managed Inventories
Module V: Managing Uncertainties
Uncertainties associated with Inventory
Lead Time – Internal and External
Service Level
Re-order level
Buffer stock
Replenishment systems – P system, Q system etc.
Module VI: Managing Inventory Records
Inventory record keeping
Stock counting methods
Managing discrepancies and surplus
Managing obsolescence
Inventory valuation – FIFO, LIFO, Weighted average etc.
Module VII: Managing Warehouse Performance
Measuring warehouse performance – key metrics
Managing outsourced warehouses
Warehouse Management System
Warehouse communications
UPC
RFID
Risk Management in warehousing
Module VIII: Sustainability in Warehousing
Sustainability – The Triple Bottom line
Sustainable warehouse practices
Health, Safety and Environment
Energy efficiency
Reverse logistics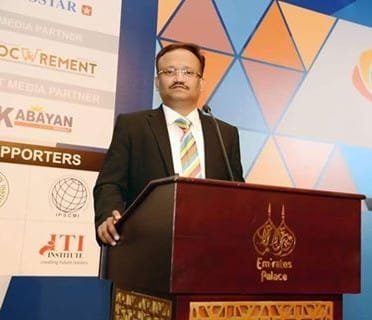 Dr. Sathya Menon is a trailblazer in logistics and supply chain education in the Middle East. He has 25 years of experience (including consulting and training) in the field of Logistics, Supply Chain Management and Purchasing. He has worked with various MNCs like Ericsson, Compaq and large conglomerates like Samtel, Al Futtaim helping them to expand their Supply Chain operations. He have trained more than 25,000 professionals in the field of Logistics, Procurement and Supply Chain.      
Qualifications  
PhD in Logistics and Supply Chain Management
MBA in Supply Chain Management
MBA in Materials Management
FCIPS – Chartered Fellow of the Institute of Purchasing and Supply (CIPS – UK)
FCILT– Chartered Fellow of the Institute of Logistics and Transportation (UK)
Executive Program in Artificial Intelligence – Future and Impact on Business Strategy – From MIT Sloan School of Management
Certified SAP Consultant for Supply Chain Management from SAP, Germany
FCMI from Chartered Management Institute (CMI), UK
Certified Purchase Manager (CPM) from Institute of Supply Chain Management (ISM) , USA
Certified International Supply Chain Manager (CISCM) from International Purchasing and Supply Chain Management Institute (IPSCMI), USA
Certified International Commercial Contracts Manager (CICCM) from from International Purchasing and Supply Chain Management Institute (IPSCMI), USA
Certified International Professional Training Consultant (CIPTC) from American Certification Institute (ACI), USA
Certified Professional Purchasing Manager (CPPM) from American Purchasing Society (APS), USA
Certified Purchasing Professional (CPP) from American Purchasing Society
Course Categories
Download Course Brochure