The Six Sigma Green Belt program is designed for all professionals who want to improve the quality of products/services and ensure customer satisfaction. This certification validates your knowledge and commitment to take a consistent and practical approach to reap profitable results. When you are certified, you are well-poised to make a difference to your career as well as the organization that you are working for.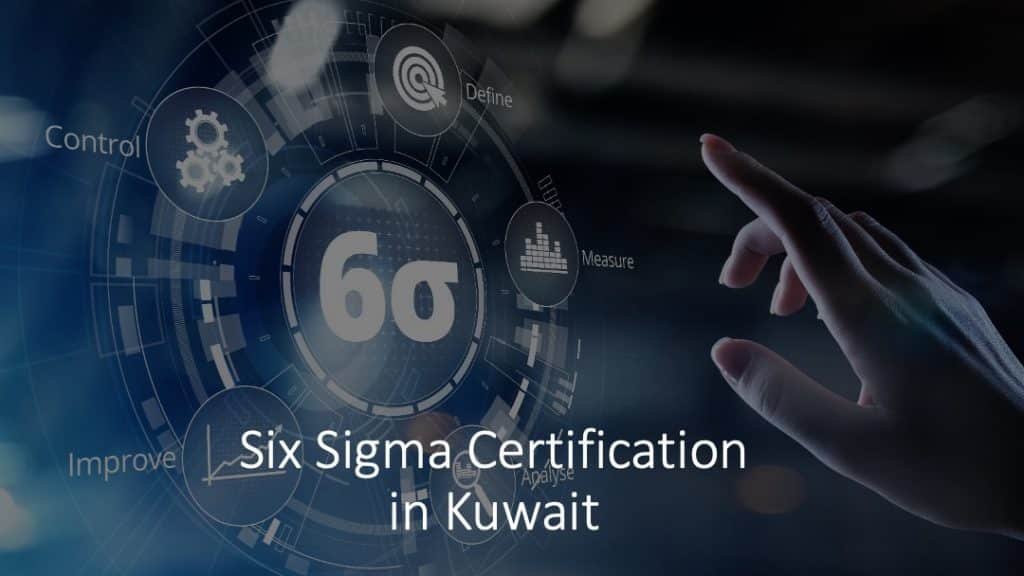 What is Six Sigma?
Six Sigma is a powerful methodology that can be used to improve business processes. It is a structured approach to problem-solving that can be applied to any process – manufacturing, sales, marketing, IT, BPO, accounting, purchasing, you name it. All processes have variation. Variation is the cause of all errors – it leads to defects and customer dissatisfaction. Six Sigma methodology can be used to reduce variation from any source and thus reduce costs, improve quality, and hence customer satisfaction.
What are the Six Sigma course objectives?
The standard methodology that is used to improve existing processes is called DMAIC. The acronym DMAIC stands for Define – Measure – Analyze – Improve – Control.

Define Phase
If you think about it – this methodology is common sense. Before we start working on a problem, we need to have a good definition of what is the problem, why we are working on it, where is the pain area, what is in the scope of the project etc. All of these are accomplished in the Define phase.
Measure Phase
Secondly, in the Measure phase, we are interested in ensuring that the data used for further analysis is free of measurement errors. Six Sigma is about making decisions based on facts & data. If the data is inaccurate, we would end up making the wrong decisions. Hence, the measured phase ensures good data. Before making any improvements, it is also important to establish a baseline so that we can clearly communicate the benefits obtained from our project to other key stakeholders.
Analyze Phase
The next phase, Analyze, is all about making the hypothesis and using data to either prove or disprove our hypothesis. We make the hypothesis about what is causing the problem and then establish the real root causes.
Improve Phase
The fourth phase, Improve, focus on getting the best possible solution to solve the root cause of the problem. The solution is optimized and any potential failure modes are resolved before the solution is deployed in the real world.
Control Phase
The last phase, Control, is all about ensuring that the solution is sustainable in the long run. Any financial benefits obtained from the project are also quantified. Finally, the improved process is transitioned over to the process owner.
What skills will you learn with this Six Sigma Course?
At the end of the Six Sigma Green Belt training, you will be able to:
Become a key stakeholder in leading and implementing Six Sigma projects in your organization
Describe how to identify an improvement project in the Define phase
Explain how to measure process and product in the Measure phase
Perform data analysis and hypothesis testing in the Analyze phase
Identify possible improvement actions for the performance of variations in the Improve phase
Define efficient operating levels for inputs and outputs in the Control phase
Use DFSS Tools such as Quality Function Deployment (QFD), Failure Mode and Effects Analysis (FMEA), and Risk Priority Number (RPN)
Benefits of Six Sigma Certification for Individuals
Help your organization to eliminate defects
Improve business processes and ensure quality
Gain hands-on experience in quality management
Find jobs in varied industries
Attain leadership roles
Earn higher salary
Benefits of Six Sigma Certification for Organizations
Improve productivity
Reduce costs
Eliminate wastes
Maximize customer satisfaction
Ensure continuous improvement
Engage employees
Six Sigma Green Belt Course Outline:
Introduction
History of Six Sigma
Principles of Six Sigma
Six Sigma Roles and Responsibilities – the Belts, Champion, Sponsor and Process Owners
Six Sigma Metrics – DPU, DPMO etc.
Outline of DMAIC methodology
Define Phase :
History of Six Sigma
Principles of Six Sigma
Six Sigma Roles and Responsibilities – the Belts, Champion, Sponsor and Process Owners
Six Sigma Metrics – DPU, DPMO etc.
Outline of DMAIC methodology
Measure Phase
Introduction to data and data types
Measures of Central Tendency and Measures of Dispersion
Probability distributions – Binomial, Poisson, Hypergeometric, Exponential and Normal
Central Limit Theorem
Six Sigma Metrics – DPU, DPMO, Normalized Yield and Rolled Throughput Yield
ZST and ZLT
Measurement System Analysis – Precision, Accuracy, Bias, Stability, Gage R & R
Exercise on MSA
Improve Phase
Design of Experiments –
Factors, Level and Runs
Replication, Randomization and Local Control
Simple Experimental Designs
Analyse Phase
Process Capability Studies – Cp, Cpk, Pp, Ppk
Understanding Variation – Assignable causes and Common causes
Correlation and Regression
Basics of Statistical Inference
Hypothesis Testing – test for means, paired-t test, test for variances
Analysis of Variance (ANOVA)
Root Cause Analysis Techniques
Exercises on the above
Control Phase
Control Chart Concepts –
Control Limits, Specification Limits and Tolerance Limits
Concept of rational subgrouping
Variable Control Charts – X-bar, R and X-bar S charts
Attribute Control Charts – np, p, c and u charts
Control Plan
Failure Mode and Effect Analysis
Poka Yoke
Case Study Presentation
Q & A Session
Review Test
Six Sigma Green Belts are employees who spend some of their time on process improvement teams. They analyze and solve quality problems, and are involved with Six Sigma, lean or other quality improvement projects.
Six Sigma is a highly disciplined process that helps us focus on developing and delivering near-perfect products and services. Organizations that have implemented Six Sigma or those who are employing Six Sigma Certified Professionals have seen drastic improvements in their quality, productivity and profitability. Six Sigma certified people are in high demand in all industries, especially in Banking, Retail, Logistics and SCM, Purchasing, Manufacturing etc.
Faculty Profile:
Dr. R.S. Chalapathi  PhD holder from the prestigious IIT, Kharagpur – an expert in Six Sigma. He is a renowned speaker and author of various books on Six Sigma.
Qualifications: 
PhD in Quality from IIT, Kharagpur
M.Tech fom IIT, Kharagpur
B.Tech in Mechanical Engineering
Certified Lean Master Black Belt
Certified DFSS Master Black Belt
ASQ-Certified Quality Engineer
Certified Lean Six Sigma Master Black Belt
Certified Trainer from CBI, Netherlands
Certified Lead Auditor ISO-9000
ASQ-Certified Manager of Quality and Organisational excellence
International Experience
Conducted two days open-workshop on Design for Six Sigma (DFSS). Attended by representatives from Motorola, Panasonic, Minolta, etc.
Provided complete Six Sigma Training and Consultancy to two companies in Dubai: Oman Insurance Company and Dubai Co-operative Society.
Trained German Engineers on Six Sigma and Facilitated the project implementation. Visited in Germany for 6 weeks during 2003.
Several people from Sri Lanka, Saudi Arabia and Dubai had attended our Six Sigma Black Belt program in Delhi.
KHDA – The Knowledge and Human Development Authority is the educational quality assurance and regulatory authority of the Government of Dubai, United Arab Emirates.