Newsletter                                                                     January – February 2018 
2018 : THE YEAR OF THE TURNAROUND
UAE, a country of  boundless imagination and high returns — where you are expected to think bigger and live your life larger than anyone else –took a beating last year with the growth rate nose-diving to an abysmal 1.7 per cent. However, 2018 promises to be a turnaround year. Economists predict that a recovery in oil prices coupled with an ongoing all-out diversification drive and the landmark tax reform, will boost the growth rate to 3.3 per cent in 2018.
VAT, which represents a major shift in tax policy, will impact all segments of the economy, leading to a fundamental change in the way businesses operate across around the region. Sultan bin Saeed Al Mansouri, UAE Minister of Economy, said that the outlook for the economy is brightening despite regional and global macroeconomic challenges.
With two years into  Expo 2020 Dubai, the economic growth momentum is expected to pick up on the back of a vibrant non-oil sector as the country remains on track to establish a diverse knowledge- and innovation-driven economy.
A five per cent value added tax will help boost state revenues by Dh12 billion per annum, adding about 1.5 to two per cent to the GDP.Most forecasts show that Abu Dhabi's GDP growth is expected to pick from to 3.9 per cent in 2017 to 4.7 per cent in 2018 – outpacing the overall UAE's GDP growth rates over the same period respectively, analysts at Knight Frank said in their UAE Market Review and Forecast 2018.
In Dubai, as the economy will diversify in line with Dubai Plan 2021, GDP growth is expected to strengthen to 3.5 per cent in 2018. Overall, a positive outlook and an improved growth rate, augurs well for UAE fortunes.
AWARDS GALORE IN  2017
Blue Ocean Consolidates its Leading Position in Training and Development
Blue Ocean, the region's most trusted name in professional training and knowledge empowerment was honoured with a number of awards that clearly established its position as a leading player in the region.
At the prestigious Middle East Training, Development and Leadership Awards held at the Address Hotel in Dubai on Oct. 11, Blue Ocean was named the "The Training Provider of the Year 2017." The coveted award was another feather in Blue Ocean's cap that specializes in designing courses that bridge the gap between infrastructure and knowledge, imparting futuristic skills to a new genre of leaders.
Blue Ocean was feted for its training solutions that are known to be accurate, creative and focused where employee skills are honed through a series of innovative training sessions in a simulated work environment. As Blue Ocean set a new benchmark in building capabilities, translating directly into organizational profits, Dr. Sathya Menon, Managing Director,  was conferred  the Global Training and Development Leadership Award at the World HRD Congress 2017, held at the Taj Lands End, Mumbai  for his extraordinary work and contribution as change leader in global training and logistics.Blue Ocean Academy's brand new solutions are particularly relevant in today's resurgent Middle East economy, where investing in employee -learning programs showcases a company's commitment in creating a sustainable business culture.
This, in turn, increases profitability, builds loyalty and employees are committed to the success of the organization as a whole. Evidently organizations with a futuristic vision are committed to make training a part of the organizational culture and Blue Ocean is set to help organizations fulfill this very important role.
At the Golden Globe Tiger's Award ceremony, held at Kuala Lumpur, Malaysia, in May 2017 Blue Ocean bagged the award for the "Best Training Initiative for Logistics and Supply Chain" continuing to strengthen its no. 1 position in the Middle East. Headquartered in Dubai with a strong presence in the Kingdom of Saudi Arabia, Qatar, India, Africa and Sri Lanka, Blue Ocean stands on an enviable reputation built on 20 years of training, 80,000 alumni worldwide and a global network of certified trainers, prestigious international certifications and multinational partners.
BLUE OCEAN PARTNERS WITH THE PRESTIGIOUS CIPS TO RAISE THE BAR OF PROCUREMENT PROFESSIONALS
Training and Certification Programmes to Reach out to MENA region
In a strategic partnership, Blue Ocean, the region's largest knowledge empowerment enterprise has joined hands with the Chartered Institute of Procurement and Supply (CIPS), UK, to train and certify procurement professionals in the Middle East.
The partnership comes at a time when the importance of the procurement function has risen in prominence in a highly competitive global environment.  With the supplies of critical commodities becoming more expensive, procurement professionals worldwide are playing a critical role in strategizing and mitigating these risks
"I am delighted to welcome Blue Ocean Academy as a CIPS study centre in the Middle East. They have a track record of providing quality education here in the MENA region and will provide an additional outlet to those looking to achieve globally required procurement qualifications, " said Sam Achampong, FCIPS, Regional Director, CIPS, Mena.
Kurt Warren Chairman Fellows Committee, CIPS, Mena Region while launching the Blue Ocean- CIPS program at the Grand Excelsior Hotel recently said : "the procurement and supply profession is one of the fastest growing and most sought after professions.   The introduction of procurement and supply professionals taking their place in the boardroom, as Chief Procurement Officer or Chief Supply Officers is indicative of its importance globally. "
Talking at the launch of the programme, Warren urged the procurement fraternity  : "You have  chosen  to take this opportunity to enhance your procurement and supply chain knowledge.   Over the next few months you will learn from qualified CIPS professionals, who will not only teach you the CIPS curriculum,  they will draw upon their knowledge and experience. Enjoy every minute of your training and studying.   The journey will be rewarding, providing you with the foundations to build upon and eventually reach MCIPS status, a globally recognized procurement and supply qualification."
Blue Ocean is also reaching out to other Middle East countries like KSA, Qatar and Oman with the purpose of upgrading the skills of the procurement fraternity and raising the bar of the certified professionals, through advanced CIPs certifications.
Blue Ocean is also reaching out to other Middle East countries like KSA, Qatar and Oman with the purpose of upgrading the skills of the procurement fraternity and raising the bar of the certified professionals, through advanced CIPS certifications.
BLUE OCEAN STRIKES STRATEGIC PARTNERSHIP WITH UK-BASED ILM TO GROOM FUTURE INDUSTRY LEADERS
Blue Ocean, the region's largest professional knowledge empowerment enterprise has forayed into leadership management training striking a strategic partnership with the prestigious Institute of Leadership Management (ILM), UK.
 

The Institute of Leadership & Management (ILM) is Europe's leading management training organisation and is partnering with Blue Ocean to spark professionals, transforming them into innovative and skilled leaders.
 
Blue Ocean students can now join the largest awarding body for leadership and management qualifications in the UK. Blue Ocean's training for ILM certifications will be available at its public batches as well as corporate training programmes across the Middle East : UAE, Qatar, Kingdom of Saudi Arabia, Bahrain and Oman.ILM-Blue Ocean certifications are designed to help managers increase staff efficiency and motivation, ensuring that their businesses run at an optimum level of productivity.
Training courses are tailored to the needs of individual organisations and their managers from industry-leading qualifications and membership services to specialist learning resources Blue Ocean- ILM products and services are built on in-depth research and bench-marked against best practice standards. Supporting a fast-growing community of practising leaders and managers, ILM's membership services are designed to provide ongoing continuing professional development throughout every stage of a manager's career.
 
Backed by an in-depth programme of thought leadership research, ILM-Blue Ocean programmes are set to empower professionals by improving leadership and management skills, knowledge and outputs across all sectors, from corporate finance to the armed forces.
Hall of Fame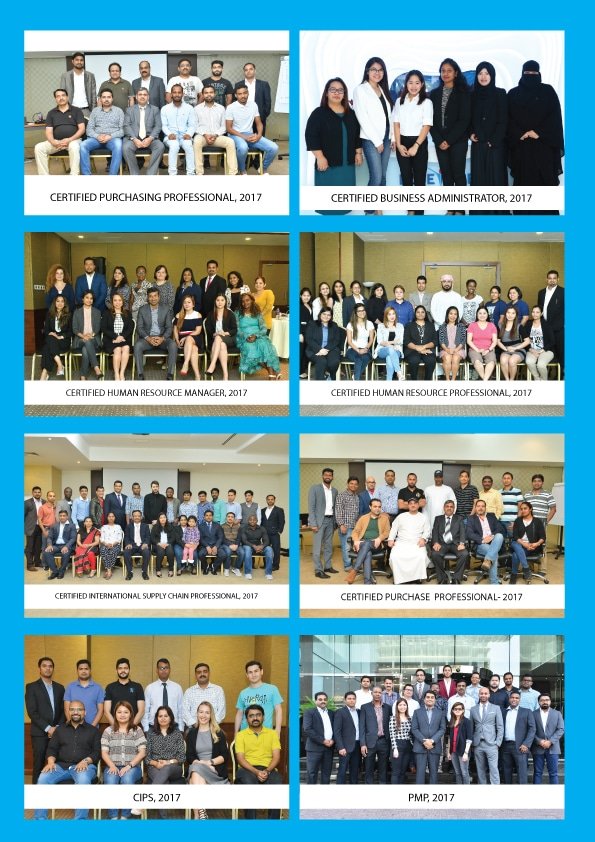 BLUE OCEAN LAUNCHES VAT TRAINING
GCC MARKET CORRECTIONS AND NEW EMPLOYMENT OPPORTUNITIES AHEAD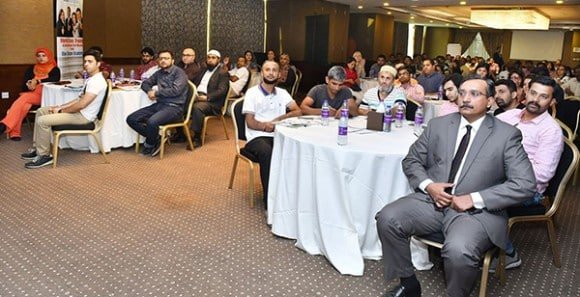 Blue Ocean, the region's  largest knowledge empowerment
enterprise, has launched comprehensive training programmes on "Value Added Tax : Implications, Challenges & Roadmap" for procurement and finance professionals as GCC countries prepare to  introduce VAT on all goods consumed from January 1, 2018. While VAT is at work in 140 countries in the world and for decades, GCC countries are still grappling with its introduction and implications. The last quarter of 2017 and 2018, promises to be a trying time for the economy as the GCC countries are thrown into a state of flux, while businesses evaluate and implement VAT. Value Added Tax is a consumption tax levied on end users, it's optional and is only applied when some value is added. Blue Ocean training programmes are focused on four key areas :
Understanding VAT
VAT Accounting
VAT Challenges
VAT Implementation.
Mr. Rehaan Ali Khan, Blue Ocean VAT trainer explained at a recently held Blue Ocean workshop : "The introduction of VAT will result in a change in the reins of power and expected market shakeouts. It will present an interesting learning curve allowing market corrections and new employment opportunities."
In the GCC every member state is coming up with a strategic programme like Vision 2030 or 2021 and VAT is expected to contribute 1.5 per cent to the GDP of the economies. A serious challenge awaits businesses operating in multiple GCC countries while understanding implementing and synchronizing business objectives. Dr. Sathya Menon, Academic Director, Blue Ocean Academy said : "VAT implementation in GCC countries is an interesting and new phenomenon. Businesses are facing multi-dimensional challenges ranging from delayed legislation announcement to expected disruption in a number of business areas. In absence of clear guidelines and in-house expertise, the learning requirement in this area has increased manifold."
Fundamentally, VAT is considered an accounting issue but not when it is being implemented for the first time. Every area of business, stakeholder, supply chain, competitors and customers has some impact.
"Blue Ocean VAT training programmes have been designed with a special focus on one of the most vulnerable areas expected to be affected during  VAT implementation : Procurement.  A radical realignment will be required to manage a floodgate of challenges both in terms of legal issues and processes resulting from VAT implementation in," explained Mahendra Yadav, VAT Training consultant with Blue Ocean Academy.
Introduction of VAT needs a realignment of business processes to keep them working efficiently, develop a robust accounting model with inherent characteristics of agility to successfully respond to the learning curve which the system will undergo. Therefore all top notch professionals ranging from CEOs, CFOs, Finance Directors, Finance Managers,  Tax and Audit Managers, IT Managers, Sales, Marketing,  Procurement and Supply Chain staff need to be trained and sensitized about VAT.
Developing Human Capital in time for 2020

Debasree Banerjee
FROM EDITOR'S DESK
Focus on transforming HR practices
to groom local talent
Dubai is set to transform itself into a hub of human capital, exporting knowledge and manpower to other GCC and North African countries. Experts agree that there is an urgent need for developing human resource practices to retain and groom local talent in time for Dubai Expo 2020.
The first step is to understand the dynamics of the employees and also the skills that they will need to gain expertise. It is also important to turn the spotlight on the future of workplace skills. Three main lines have emerged so far: brand building through digital marketing, virtual collaboration and cross-cultural competence.
There is an increasing consensus about the skills to look out for and cultivate for the future : learning ability, thinking and specialization.
Experts predict that in 2020, the private workforce in the UAE will be divided among those who work for large conglomerates, small and medium enterprises and those who are self employed. In the coming years there will be a distinctive increase in the no. of people working for small and medium enterprises and entrepreneurs. The penchant for working for major corporations and multi-nationals might be on the decline.
The perspectives of employees are expected to change ushering in changes in the employment scenario. Obedience, diligence and expertise will be valued by employers and the onus will be on employees who can take initiative, are creative and passionate about their work.
Worldwide the best HR practices are those that develop talent, globalisation, growth and innovation. Increasingly, the emphasis is on executing talent and HR strategies for organisational acceleration. Cutting-edge talent development must bring together on-the job learning, project assignments, talent networks and formal education and training with individual experiences. It's time to re-imagine corporate learning:  Move away from traditional notions of training and strive to create behavioural change and to foster talent.
It is also time to re-think the relationship between learning and work: especially where and how learning is delivered. Develop and expect more from leaders at all levels: leadership development is to be aimed at more and younger people. Embrace the concept of continuous development, just like continuous improvement. Integrate work, social and community opportunities.
CORPORATE OFFICE DUBAI
Blue Ocean Academy
P.O. Box 116687, Suite B2505,
Latifa Towers, Sheikh Zayed Road,
Opposite World Trade Centre, Dubai, U.A.E
Call Us : +971 4 3148500