Earn the industry-standard qualification in procurement from the Chartered Institute of Procurement & Supply (CIPS), UK.
CIPS Level 4 – Diploma in Procurement and Supply
The digital revolution has redefined the procurement function. Are you equipped with the right tools to deal with the changes in procurement? The Diploma in Procurement and Supply from the Chartered Institute of Procurement and Supply is ideal for everyone who deals with the procurement function. The program provides practical knowledge on the key processes in procurement, managing supplier relationships, improving negotiation skills and understanding conflict resolution.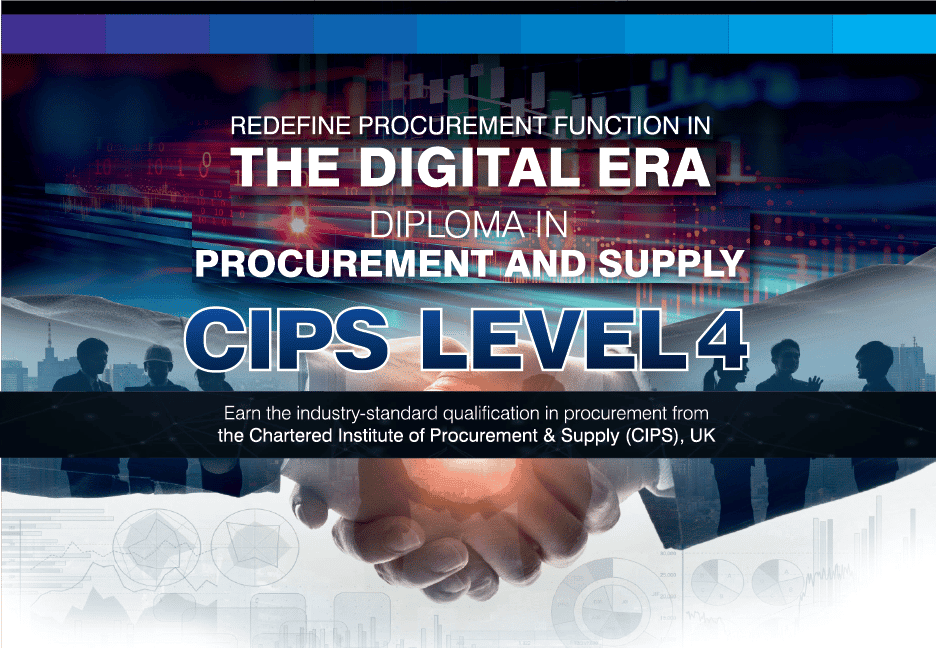 As a buyer you're in an extremely powerful position. But because buyers often operate behind the scenes, many people aren't aware of procurement and supply as a career choice. Top buyers are in huge demand around the world and can achieve extremely high positions within companies. Whether it's sourcing goods from local suppliers or running global supply
chains, buying essential services and resources at the right price, particularly in today's challenging economic environment, can make or break a business.
CIPS Program Highlights
Learn key processes in procurement
Manage supplier relationships
Acquire skills in contracting & negotiation
Master life asset management
Understand conflict resolution
CIPS Students Testimonials
CIPS Courses Content & Modules
The Diploma course comprises 8 Core Modules, which are delivered using a blend of group interaction, case studies and role plays.  We have clear objectives to ensure students are able to relate the learning to workplace situations and then deploy the best practice techniques in their job role.
CIPS Level 4 CORE MODULES (Complete all 8 core modules)
L4M1 Scope & Influence of Procurement & Supply
Understand added value strategies that can be achieved through procurement and supply. Understand the key steps when procuring goods & services. Analyse the key aspects of organisational infrastructure which shape the scope of procurement. The need for compliance when undertaking procurement activities.
L4M2 Defining Business Need
Understand how to devise a business case when sourcing. Understand market management in procurement & supply. The use of specifications in procurement & supply
L4M3 Commercial Contracting
Understand the legal issues that relate to the formation of contracts. Specifications and key performance indicators that are included in contracts and key clauses when contracting with suppliers.
L4M4 Ethical and Responsible Sourcing
Options for sourcing from suppliers. Sourcing processes and the analysis of potential external suppliers. Compliance issues when sourcing and understanding ethical & responsible sourcing.
L4M5 Commercial Negotiation
Key approaches and strategies in the negotiation of commercial agreements with suppliers. How to prepare for negotiations, stages of negotiation and how commercial negotiations should be undertaken.
L4M6 Supplier Relationships
Understand the dynamics of relationships in supply chains and when to partner. Processes and procedures for successful working with stakeholders. The concept of partnering.
L4M7 Whole Life Asset Management
Methods for the storage and movement of inventory (stock). The key elements of inventory control and the concept of through life cost
L4M8 Procurement & Supply in Practice
Students have to demonstrate the application of the procurement cycle. Demonstrate the application of the key stages of the sourcing process, the application of whole life asset management and the application of ethical and responsible sourcing in the organisation.
PROGRAM DIRECTOR
Dr. Sathya Menon
FCIPS, FCILT, FCMI, CPM, CISCM, CPPM, CICCM, CERTIFIED SAP CONSULTANT – SCM/MM
Dr. Sathya Menon is a trailblazer in logistics and supply chain education in the Middle East. He has 25 years of experience (including consulting and training) in the field of Logistics, Supply Chain Management and Purchasing. He has worked with various MNCs like Ericsson, Compaq and large conglomerates like Samtel, Al Futtaim helping them to expand their Supply Chain operations. He has personally trained more than 25,000 professionals in the field of Logistics, Procurement and Supply Chain.
Qualifications  
PhD in Logistics and Supply Chain Management
MBA in Supply Chain Management
MBA in Materials Management
FCIPS – Chartered Fellow of the Institute of Purchasing and Supply (CIPS – UK)
FCILT– Chartered Fellow of the Institute of Logistics and Transportation (UK)
Executive Program in Artificial Intelligence – Future and Impact on Business Strategy – From MIT Sloan School of Management
Certified SAP Consultant for Supply Chain Management from SAP, Germany
FCMI – Fellowship from Chartered Management Institute (CMI), UK
Certified Purchase Manager (CPM) from Institute of Supply Chain Management (ISM) , USA
Certified International Supply Chain Manager (CISCM) from International Purchasing and Supply Chain Management Institute (IPSCMI), USA
Certified International Commercial Contracts Manager (CICCM) from from International Purchasing and Supply Chain Management Institute (IPSCMI), USA
Certified International Professional Training Consultant (CIPTC) from American Certification Institute (ACI), USA
Certified Professional Purchasing Manager (CPPM) from American Purchasing Society (APS), USA
Certified Purchasing Professional (CPP) from American Purchasing Society