Blue Ocean Academy  is an ISO certified organization and a leading management training and educational consultancy firm. Blue Ocean has sparked the careers of thousands of professionals drawn from different industries who have displayed rare leadership qualities in challenging scenarios. We conduct Training Courses in Abu Dhabi, Dubai, Saudi Arabia,  Kuwait, Bahrain, Azerbaijan and North Africa.
Blue Ocean stands on an enviable reputation built on 20 years of training, 80,000 alumni worldwide, a global network of certified trainers, international affiliations and multinational partners.
For all aspiring logistics professionals, the IPSCMI "Certified International Supply Chain Professional"
followed by the "Certified International Supply Chain Manager is a two-step qualification specially designed to carve out top-notch careers. A prestigious qualification recognized all over the world, logistics professionals learn new skills and innovations necessary to deal with modern shipping, production and distribution methods.
Certified International Supply Chain Professional (CISCP)
This Certification Program is a core certification program of the International Purchasing and Supply Chain Management Institute. This program offers the designation of CISCP (Certified International Supply Chain Professional, Entry Level).
Certified International Supply Chain Manager (CISCM)
CISCM is an advanced level training and certification program in Logistics and Supply Chain Management. The CISCM course is designed for logistics professionals who want to grow into a senior management level. The course will mostly focus on the strategic aspects of Logistics and Supply Chain Management.
Certified Purchasing Professional / Manager (CPP-CPPM)
From the American Purchasing Society, USA. International sourcing emerged initially as a reactive approach designed to reduce production costs and neutralize the threat of foreign competition. Today, leading edge firms have shifted the focus of their international sourcing efforts to that of a proactive strategy that pursues a sustainable competitive advantage. The challenge of all purchase specialists and managers is to explore best practices in international sourcing that positively impact a firm's competitiveness.
Certified International Warehouse and Inventory Manager (CIWIM)
Management of Warehouse and Inventory is essential to any logistics system, which is an essential part of supply chain management.  Warehousing will play a substantial role in ensuring  the efficient functioning of the entire supply chain systems in the future.  As customers are moving towards online shopping, RFIDs, Autobots, CPFR and auto replenishment systems will be the new normal in warehouse and inventory operations.
Logistics is used for an enterprise with a wide range of activities like movement of material, their handling and storage. Companies are consistently working with logistics department to manage the materials in an appropriate manner. With the help of logistics and supply chain management training in Abu Dhabi, it will be easy to manage the material in a professional manner.
Leading companies often select the certified logistics and supply chain professionals because they perform well in the department by optimum material utilisation and management. These experts can cope up with the challenges. This course covers the latest essential practices in forecasting, planning, procurement, transportation, warehousing and logistics. It also covers the supply chain operations.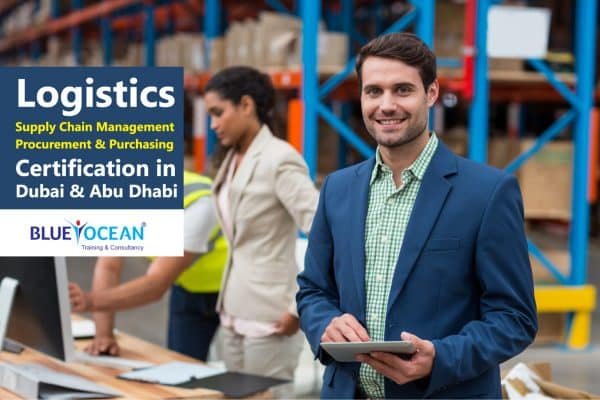 Download the brochure to find out more details about the logistics and supply chain management training in Abu Dhabi
Program Benefits
A certified professional is held in high esteem by industry, employers, colleagues and peers.
When you are certified by IPSCMI, you are well-poised to make a difference to your career as well as the organization that you are working for.
Having the IPSCMI CISCP / CISCM  tag will help students showcase the training, skills and qualification they have acquired to present and future employers.
A survey done by a Purchasing Magazine revealed that certified professionals earn 48% more salary than non certified professionals.
Why Choose Logistics and Supply Chain Management Training at Blue Ocean Academy in Abu Dhabi?
Courses are delivered by MCIPS qualified procurement professionals with over 25 years of global logistics industry experience
Our courses are enriched with industry examples to enable participants to understand how the learning is applied in real life
Our case studies are based on projects we have delivered and not just on academic theory
Blue Ocean is a trusted brand for Procurement and Supply Chain training in Saudi Arabia, Oman, Kuwait, Bahrain, Qatar, Sri Lanka and India,form a part of our core offering for Purchasing and Supply professionals